De:central Days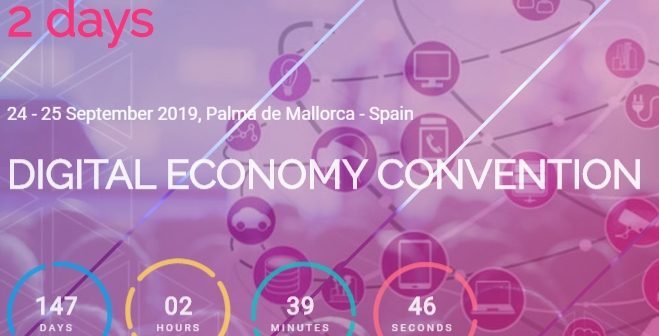 De:central Days is a two-day event that is going to take place in Palma de Mallorca. It is a digital economy convention that will cover advanced technological topics such as Blockchain technology, Artificial Intelligence, Future of Mobility, Internet of Things, and Augmented & Virtual Reality.
De:central Days aims to make Mallorca the biggest hotspot for the digital economy. Multiple challenges are going to take place soon. This digital revolution will have to cross hundreds of hurdles and ensure that it moves in the right direction. To ensure proper growth, all the significant paths will be covered making sure the challenges are covered as much as possible.
More about the conference - Digital Conference Spain
The conference will bring different industries companies and give them the platform to showcase their work to the audience. They will also have the opportunity to showcase their solution to the problems. Moreover, they can find partners who are eager to work on their project and ensure proper growth. Last, but not least, the government agencies will also be able to participate in the event providing their valuable input and providing the necessary synergy to make the project successful. In short, you will be getting two days of discussions, speeches and other activities that will keep you busy for the most part. There will be around 1,000 participant which means there are ample reasons to visit the event and take your networking skills to the next level.
Key topics that will be discussed in the conference
Internet of things: Internet of things is the next big step in the tech leap. By IoT, all the devices can communicate with each other and bring efficiency and functionality to the next level. De:central Days aims to give IoT more to explore by discussing its challenges, it's future, the approach and much more!
Future of Mobility: The mobility industry is going to be changed on how autonomous driving, electromobility, and other key factors take their role.
Blockchain Technology: Blockchain technology is genuinely revolutionizing each industry out there. Here, you will discover more about blockchain technology and how it is affecting our life.
Artificial Intelligence: AI is changing how we manage tedious work. It is also changing how we solve critical problems including healthcare. Learn more about and watch great projects around AI in De:central Days.
Augmented & Virtual Reality: Augmented and Virtual Reality is the next step in terms of content consumption and solution to many problems around us including production, healthcare, education, and so on.
Tickets
The ticket prices are as below.
Early bird: 299 Euro
Delegate pass: 399 Euro
Last Minute: 499 Euro
Priority Pass: 799 Euro
VIP Pass: 1950 Euro
Each pass provides different access to the conference. So, do not forget to check the details on their official webpage before buying.
Agenda
The agenda of the conference is as below.
Monday: 23rd Sept: Pre-Event Majorcan Night - Traditional drinks and food with a proper networking opportunity
Tuesday: 24th Sept: Blockchain, AI and IoT topics.
Wednesday: 25th Sept: Artificial Intelligence, Future of Mobility, Augmented and Virtual reality, Business management topics
Speakers
The few notable speakers include the following:
Joel Kovshoff: Director of Sales and Founder at BlockRake Inc.
Sanjay Popli: Business Advisor for Cryptomind
Dustin Goodwin: Co-Founder of Opolis
Wannipha Jen Buakaew - Public speaker
Norbert Redkie - CEO & Founder, Trust
Timo Trippler - CEO BlockSmart Europe
Jan Sammut - CEO and Founder, RefToken
and many more!