D.C. Blockchain Summit 2020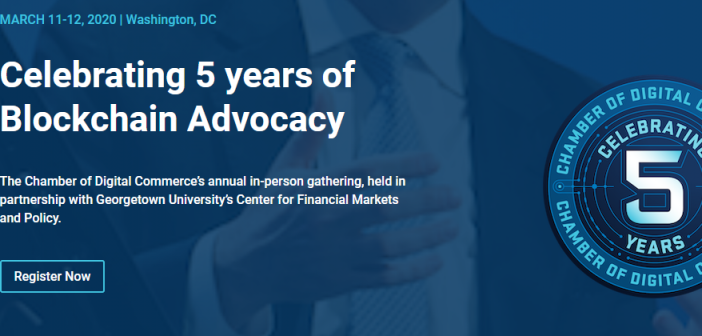 The DC Blockchain Summit 2020 is aimed to provide a platform for networking and sharing valuable knowledge about blockchain technology. It is taking place from 11th to 12th March 2020 and is going to take place at Georgetown University's Center. It is an annual event, and this is the 5th year of the event taking place. The event will be a celebration of 5 years of blockchain advocacy.
The DC Blockchain Summit 2020 is an in-person annual gathering. Georgetown University is also making this happen. At the summit, you will get the chance to network, learn, and innovate.
Agenda
The Agenda of the D.C. Blockchain Summit is as below.
Digital Asset Securities Markets → This is where you will get the chance to listen to the best minds about how regulatory actions are taking place in the market. They will discuss business frameworks and also take a look at the regulatory and legal challenges that exist in the market.

Future of Money → In this topic, they will explore how blockchain can change how the central banks look at fiat. It will also discuss stable coins and their types.

U.S. Strategy To Promote Blockchain Technology → Here, the speakers will discuss the blockchain technology power and how it impacts the countries all around the world. Then, the focus will be shifted to the USA and how it regulates the cryptocurrency

Token Jurisdiction: CFTC Oversight and SEC → This section will look at how the regulatory bodies take care of the tokens.

Brave New World: FATF Requirement → Here, the global FATF Framework will be discussed.
11th March 2020
Registration

Opening Remarks

Closing Remarks
12th March 2020
Registration

Opening Remarks

Lunch

Closing Remarks

Cocktail Reception
Speakers
J. Christopher Giancarlo, Former Chair, CTC

Eva Kaili →European Parliament's for Greece Chair

Jason Weinstein → U.S. Deputy of Justice

Brian Quintenz, CFTC, Commissioner, U.S.
Program
The program for the conference will be as below:
12th March 2020 → 10.00 am to 17:00 pm → Conference Materials Collection and Arrival

13th March 2020 → 9.00 am to 19:00 pm → Plenary Speech, Invited Speech Authors Presentation, and Keynote Speech

14th March 2020, Pending → City Visit