CryptoChicks Hackathon and Conference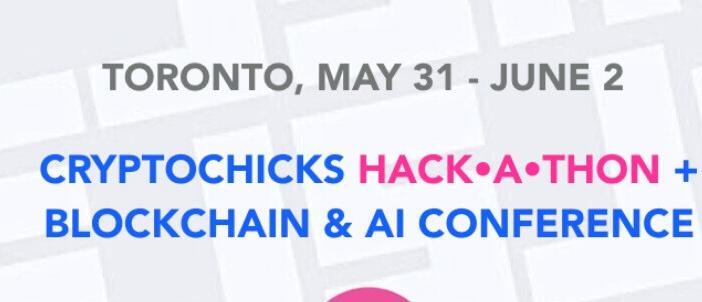 CryptoChicks Hackathon and Conference is aimed to bring together the best artificial and blockchain experts, advisors, mentors and leaders. They aim to foster an environment of hacker and builders who can change the world! Also, they provide a new challenge for the participant enabling them to unlock new skills and create connections in a friendly, educational and fun environment. It is going to take place from May 31- June 2, 2019, at Toronto, Canada.
Hackathon
One of the significant components of the event is the hackathon. They provide an excellent opportunity for women of all ages to showcase their skills. They have Women developer track, Women Business Track, and Youth Developer Track. They also have great mentors who will help you to reach your level.
Speakers
The list of the prominent speaker who will share their knowledge at the CryptoChicks Hackathon and Conference are as follows:
Vitalik Buterin - Etherum Foundation
Rahul Raina - Microsoft Canada
Rene Bostic - IBM
Dr. Ben Goertzel - SingularityNet
Jennifer Nolan - IBM
Arie Trouw - XYO
Artur Gontijo - SingualrityNet
Gangeet Kaur - Enviochix
Shamin Rajani - CryptoChicks
and many more!
Tickets
The tickets for the conference are as follows
General admission: $150 for first 50 tickets, $250 for next 50 tickets and $350 for remaining 100 tickets -- access to three days of content including presentation, workshops, talks, and panels. You also get access to the cocktail party and Friday reception. Moreover, you can also take advantage of the Sunday Family Day admission of $100 worth.
Sunday Family Day Admission - $100 for 50 tickets -- 1 adult up to 3 kids. Takes place on June 2.
Student Admission: $50 first 20 tickets, $65 next 20 tickets, $80 remaining 40 tickets -- access to everything that general admission offer, need to carry a student ID
Sponsor Admission - $500, everything that the general admission offers plus priority seating.
VIP admission - $750 for first 5 tickets, $850 for next 5 tickets and $950 remaining 10 tickets -- get everything that general admission ticket offers plus priority seating, VIP area access, and VIP networking party
Women and Youth (individuals and teams) can access the conference for free if they meet the criteria. You need to apply through their website to be selected.
Venue
The venue of the event will be RBC Waterpark Place Auditorium, 88  Queens Quay W, Toronto
Agenda
The agenda of the event will be as follows.
Day  1
Keynotes
16-year-old girls investors
Crypto Chicks Alumni
Hackathon team formations
Hackathon -workshops
Day 2
Panels: Laws, Fintech, Gaming, Taxes
Scientists and Inventors
Non-Technical Talks and Technical talks
and much more!
Day 3
Sophia AI demo
Blockchain and AI games for family
Cocktails and Entertainments
Championship winners presentation
Should you attend?
The CryptoChicks Hackathon and Conference offer a unique outlook at the blockchain technology, providing hackathon at the premise. If you like to take part and have fun with your kids on Sunday Family Day, then you should check out the conference.