Consortia 2019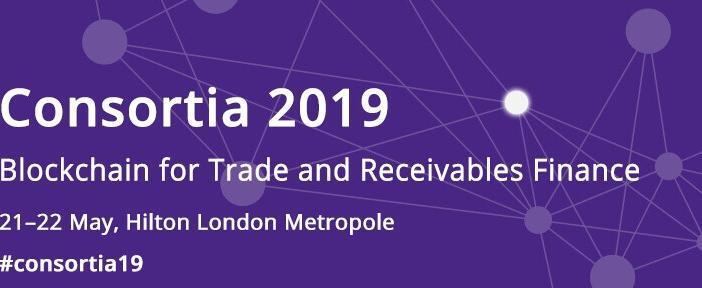 Consortia 2019 is a blockchain conference for trade and receivables finances. It will take place in Hilton London Metropole, 21-22 May. It is the first internal conference that brings major consortiums changing distributed ledger technologies and blockchain for the good of the financial institutes, businesses, and financial community. With blockchain, the whole finance sector has changed, and blockchain will only help it grow in the right direction.
Consortia 19 conference
Even though blockchain holds so much potential, it is the companies that are not able to take advantage of it. Also, the changes are not welcome correctly by the individuals that are working in the industry including logistics companies, finance banks, factoring companies, credit insurers, and others. They want to learn how to make blockchain technology work for them, rather than them working for it. Big companies are finding it hard to setup blockchain in the first place. To facilitate the change, the key here is to solve the problems that the banks and even the corporate companies have to face when working with blockchain.
Consortia 2019 is made for the consortiums and other related companies to understand the future with blockchain. It will allow everyone to take a glimpse of what DLT and blockchain have to offer in terms of trade finance and opening new business opportunities. It has something for every sector out there including SMEs, funders, banks, trade bodies, and so on.
They will also share case studies that will help you get a better grasp. The case studies that will be showcased in Consortia 2019 will include POCs example, live transactions and more!
Speakers
With an extensive list of speakers, Consortia 2019 will ensure that you have something new to listen to. Few of the notable speakers are listed below.
Baptiste Audren - Komgo - Head of Product and Business Development,

Dani Cotti - The Marco Polo Network - Managing Director, Center of Excellence,

Khushnama Davar - HSBC - Director, Trade Product Management,

Bob Gravestijn, ABN AMRO Commercial Banking, Business Developer,

Andrew Speers  Natwest - Director, Product, and Innovation,

Markus Ament - Co-Founder and CEO, Centrifuge
And others
Agenda
The forum's agenda is to provide consortiums insights that will help them setup blockchain in their supply chain ecosystem. There will be a proper discussion on their position and help them understand their challenges. They will also discuss the strategies and bring the use of DLT.
Venue
The venue of the event will Hilton London Metropole. It is a location in central London and offers excellent attractions including first-class conference facilities and guest rooms.
Tickets
It has only one ticket available right now. The standard ticket costs £1,500.00 including VAT. If you are a student or a qualified investor or corporate, you can connect with them for free passes.