International Conference on Big Data and Blockchain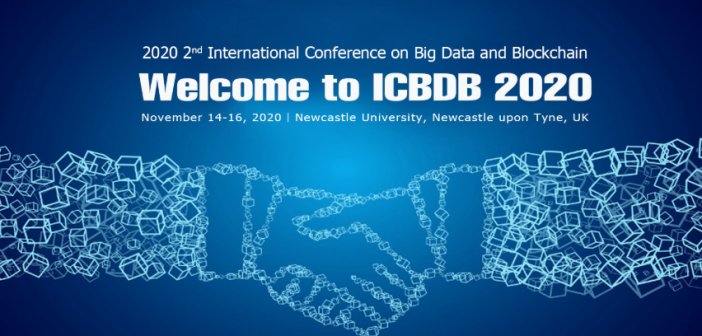 The International Conference on Big Data and Blockchain aims to bring together scientists, researchers, and scholars to share their academic research results, experiences, and insights about Blockchain and BigData.
It is a three-day event. It has been postponed to 14th to 16th, 2020, due to the Covid-19 pandemic. The event will take place at the Newcastle University United Kingdom.
HKSRA organizes the ICBDC 2020 event. 
Program
With the Big Data and Blockchain theme set, the ICBDC aims to aspire to the advances in the ever-growing fields. The event is an exciting opportunity to learn as the industry experts, and leading researchers will be sharing their latest studies through oral presentation and presentation.
14th Nov 2020 → Registration

15th Nov 2020 → Keynote session + parallel sessions

16th Nov 2020 → Parallel sessions + social networking events
Key Dates and Publications
The key dates for the submission are as below:
Full submission → 25th Aug 2020

Abstract submission → 20th Sep 2020

Author notification → 15th Oct 2020

Final version → 25th Oct 2020

Registration → 25th Oct 2020

Main Conference → 14-16th Nov 2020
The papers which are accepted will be published in the digital conference proceedings. The papers will be submitted to major citation databases, including Google Scholar, Inspec, Cambridge Scientific, Ei Compendex, EBSCO, and others! 
Submission
To become part of the conference, you need to send the papers using the Online Submission System. Sign up is required for first-time users and then post their abstract through the online system. You can also download the paper template from their site and then use it for submission.
Venue
The venue of the event will be the Newcastle University, UK, in Newcastle upon Tyne, UK.
Join as Listener, Reviewer or Presenter
You can join the event in multiple ways, including listener, reviewer, or presenter. As the event is focused on Blockchain and Big Data, you will be able to find excellent experts. If you are a reviewer, then you got an excellent chance to showcase your skills to the audience. To join as a researcher, you need to send an email to [email protected]
Lastly, you can also join as a presenter, where you share your knowledge without the need to submit any paper. All you need to do is submit the paper's abstract and become part of the event. You can connect with them at [email protected]
Local Chair and Committee
At the local chair, Dr. JIE Zhang will share his expertise. He is working as a professor at Newcastle University, UK.
Other committee members include:
Michele Della Ventura, Italy, Music Academy "Studio Musica"

Dimitris Drikakis, Cyprus, University of Nicosia

Rameshwar Dube, UK, Doctoral School of Management, Liverpool John Moores University

Chan Shiau Wei, Malaysia, Universiti Tun Hussein Onn Malaysia
And others!
Speakers
he event will see excellent speakers, including.
Prof. Xiaohua Hu, Drexel University, USA, Keynote Speaker → topic not decided yet

Prof. Massimo Marchiori, Italy, University of Padua → He will speak about big smart data for society and business.

Prof. Victor Chang, Teesside University, UK → He will speak about the AI-based Data Science for Finance and Healthcare for the next generation.

Dr. Peter Holowka, Conference Co-Chair, → He will speak on Artificial Intelligence Education, Business Continuity, and Cloud Computing.
Registration
The registration fees are as below:
Early registration, until 22nd June

Member → $540

Nonmember → $580

Student → $510

One day program → $420

Listener → $350

Regular registration, until 15th Oct

Member → $580

Nonmember → $620

Student → $560

One day program → $480

Listener → $450

Late registration, until 15th Oct.,

Member → $610

Nonmember → $650

Student → $580

One day program → $530

Listener → $500

On-site registration

Member → $630

Nonmember → $680

Student → $610

One day program → $580

Listener → $550