ChainWise Cryptocurrency Convention 2019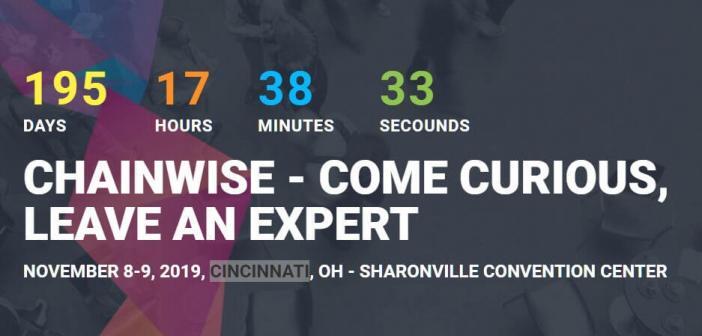 ChainWise Cryptocurrency Convention is set to take place as a two-day event at the Sharonville Convention Center, Cincinnati, OH. Spanning from November 8th to 9th, 2019, the event welcomes all crypto-enthusiasts to expand their knowledge regarding decentralized currencies and gain insight straight from the experts.
The convention primarily targets itself to individuals new to cryptocurrencies, or people who have a hard time understanding, and thereby, relying on this revolutionary technology. Attendees will have an opportunity to learn about how cryptocurrencies and blockchains work, what are some of the best projects utilizing these techs, the different blockchain platforms, and much more.
Speakers - Cincinnati Blockchain Conference
ChainWise will see a huge ensemble of speakers coming from different spectrums of the blockchain and cryptocurrency industry. You will find investors, influencers, and even CEOs of many well-known companies.
Attendees will be exposed to all the lead players in the industry and get a chance to learn inside knowledge and detailed breakdown-explanations to answer their queries regarding the technology.
Here is a quick look at some of the most notable speakers who will share the stage at the convention:
Charles Hoskinson - Founder & CEO, Cardano IOHK

Mark Moss - Lead Editor, Signalprofits.com

Daniel Gouldman - CEO, Ternio.io

Blake Rizzo - Co-Founder & Charity Affairs Advisor, Tour de Crypto

Nick Saponaro - Co-Founder & Lead Developer, The Divi Project

J-Rod, Crypto Trader, Acuitas.app

Crypto Love - Crypto Influencer

Joshua Dewitt - CEO, Coinlion Exchange

Vlad Kartashov - CEO, War Rider
And many more.
Agenda
The event is all set to start around 11 am on November 8th, 2019 with an opening speech by Charles Hoskinson on the new era started with cryptocurrency and blockchain technology. Day one will only tackle some of the basic fundamental knowledge to get you familiar with all the terminologies in the industry.
On day two, more technical topics will be discussed like:
Security

Investing and trading knowledge

Technical analysis

Automated bot trading

Cryptocurrencies use for charities
And so on.
The entire event is set to end with the Crypto Influencer Awards where the jury will announce the most prominent and helpful figure in raising crypto-awareness.
Who Should Attend?
ChainWise is an excellent opportunity for individuals acknowledging a keen interest in the hype and potential surrounding cryptocurrencies and blockchains. At the conference, your curiosity will be answered in great detail, so you don't have to follow the trend of pure faith and can use your knowledge to make sound decisions.
Tickets
The tickets are minimal for the event. They are as follows
Day 1 - Business To Business - All lectures and exhibits - $20
Day 2 - Educating The Masses - All lectures and exhibits - $20
Both days - $39 -- Both days, all lectures and exhibits
Televised Event
ChainWise aims to serve as a mass awareness program for inciting knowledge on blockchains and cryptocurrencies for normal citizens and potential investors. As such, the entire event is scheduled to be televised nationally on BizTV, making this one of the first programs on traditional television endorsing mass adoption and education regarding cryptocurrency.