Chain Plus Asia Pacific Blockchain New Finance Summit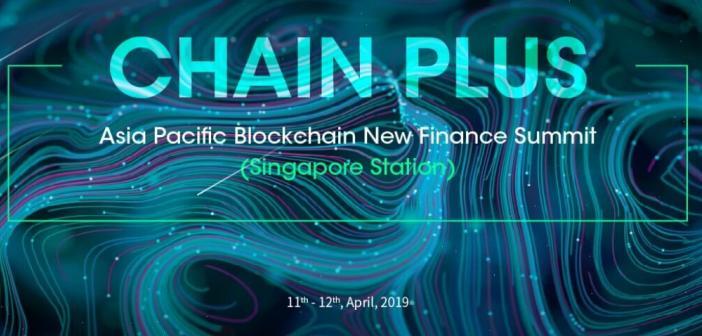 Chain Plus is an Asia Pacific blockchain new finance summit. It will take place in Singapore from 11th-12th April 2019. So, what makes Chain Plus so unique? Let's learn more about it below.
Chain Plus is managed by the Blockchainer, a multi-node super incubator that works on the global stage. Until now, they have successfully managed their events in different parts of the world including Berlin, Shanghai, Seoul, Switzerland, New York, Silicon Valley and many more! As you might have guessed it, it is all about blockchain, its infrastructure, growth, and impact on other sectors such as entertainment, finance and so on. The resources are based on multiple nodes which ensure proper growth to different sectors.
They also provide FEA Consulting which holds summits on different sectors including consumer finance, FinTech, internet insurance, AI, wealth management and more! Until now, they can serve over 30,000 industry leaders and 5,000 global companies.
Why attend Chain Plus? - Chain Plus New York
Until now we told you about Blockchainer and what it achieved through its past events. However, what makes Chain Plus worth your time? Let's discuss some of the critical highlights of the event below.
Understanding the global blockchain financial enterprises and how they work

Project showcase on investment and business integration

Cutting-edge cases

Amalgamation of different governments

150 global leading institutions involvement

8+ hours of one-on-one meeting
There will also be six sessions around which the main agenda will revolve. They are as follows.
Blockchain's layout in traditional finance

STO and stable coin industry distribution and it's potential

Reg Tech present discussion and the future

Global digital assets management

Global payment innovation

Blockchain application experience in large e-Commerce institutions.
Speakers
When it comes to speakers, Chain Plus has many! Let's list a few of them below.
Karan Seth, JP Morgan, Vice President, Global Payment Strategy

Robert Jan, Bifinex

Michael Ran, Stellar

Kelvin Tan, DBS Bank

Carylyne CHan, CoinMarketCap

Kevin Ren, Consensus Lab

Du Jun, Node Capital

Jason, C Blockchain
Statistics
Influential public child key derivation - 10

KOL speakers- 50+

Valuable and innovative topics - 40+

Capable new projects - 100+

Global mainstream media - 150+

Guests - 500+

High-level management position in a business party - 100
Who will/should attend the conference?
The following audience will attend the conference.
Companies

Traffic merchants

Payment platforms

Crypto wallet

Distribution Platform

Trade Platform

Investor Institution

Media

Others
Position
C Level

Founder

Head of Departments

General Managers

And Others
Tickets
The tickets range from $69.30 to $1000. The event has ended, and the ticket prices are shared for information only.