Business of Blockchain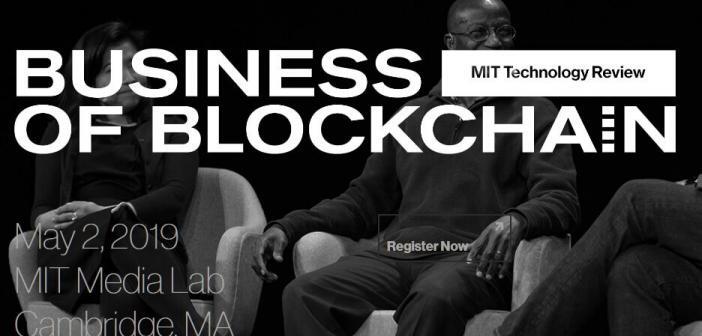 Business of Blockchain is a one-day conference done by MIT Technology Review in collaboration with MIT Media Lab Digital Currency. As we know blockchain technology is disrupting the world around us. It is fundamentally changing how we tackle problems. With the blockchain mania of 2017 over, the blockchain projects are now settling down, and it is up to the new innovators and startups to change the world for good.
At the conference, you will be able to meet the best pioneers in blockchain's emerging field. They will also learn about the technology and use that learning to gain an advantage in real-world. Not only that the conference is all about the separating fact from hype, and presenting you with information that really matters.
What things will be explored at the 2019 program?
The conference will explore multiple topics including the following.
The underlying technology of blockchain: strengths and weakness
Early blockchain projects: Lesson learned and how the initiatives are used to transform it for long-term key global industries
Impact of cryptocurrency on regulatory and legal environments
How blockchain can impact on social challenges including war crimes tracking to the expansion of financial services
Pre-event
They will also be hosting a pre-event explainer session on May 1st from 6.00-8.00pm that will explain things such as blockchain fundamentals. Experts from the industry and MIT will conduct the session.
Speakers
There will be a lot of speakers at the conference. Few of the notables ones include the following.
Robleh Ali, Research Scientist, Digital Currency Initiative, MIT Media Lab
Adam Caplan, SVP of Emerging Technology, Salesforce
Elizabeth Bramson-Boudreau - CEO and Publisher, MIT Technolgy Review
Thaddeus Dryja - Research Scientist, DCI, MIT Media Lab
Caitlin Long, Cofounder, Wyoming Blockchain Coalition, The financialization of Cryptoassets
Sonya Mann, Communications Manager, Zcash Foundation, The Path to Adoption
Mike Orcutt, Associate Editor, MIT Technology Review
and others!
Location
The event will take place at the heart of the MIT campus, i.e., MIT Media Lab in Cambridge, Massachusetts. The location is amazing as it enables you to feel the excitement and inspire yourself.
Schedule
The schedule of the conference is as follows
Registration & Breakfast
Opening remarks by Elizabeth Bramson-Boudreau
Blockchain Today by Neha, Dan, Simon, and Monica
Roundtable discussion: How is Blockchain technology Evolving? By Neha, Dan Simon and Monica
Break & Networking
Privacy and Zero-Knowledge Toolset by Sonya Mann
Roundtable discussion: Stablecoins by Robleh, and Haseeb
Smart Contracts: Expanding Access to Legal Services
Roundtable: Security Tokens - Opportunities, Challenges, and Timing
Blockchain's Role in the Enterprise  by Adam Caplan
Lunch and Networking
Blockchain Global Impact by Hui and Sponendu
Blockchain's Social Impact by Alexis and Aya
Break and Networking
Regulation in the Blockchain Era by Jessica, Peter, Caitlin, and Gary
Closing remarks by Neha, Rhys, and Mike.
Reception
Tickets
If you decide to register for the conference, you will get access to all the sessions, lunch, breakfast and even the closing reception. The general admission ticket will cost you $1695 plus an extra fee of $66.80. The total cost of the ticket will be $1761.80.
Should you attend the conference?
The conference is one of the best ways to learn about blockchain. It is hosted and managed by the brightest people on earth, i.e., MIT leaders and professors. Also, there will be speakers from all over the world where you will get proper networking opportunities. They have proper arrangement for the conference. You can also take hotel arrangement by paying extra.