BlockTech Women Conference 2019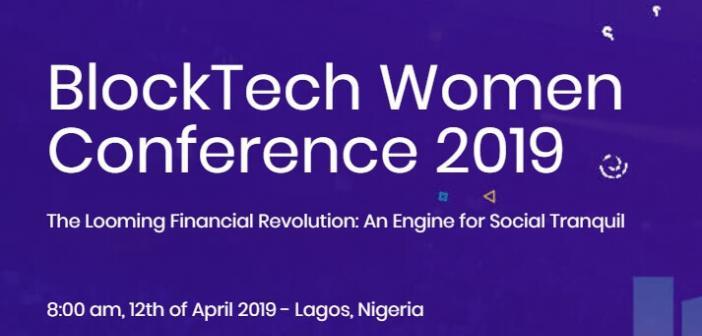 Blocktech Women Conference 2019 is a one day conference that is going to take place in Lagos, Nigeria. It is hosted by Blockchain African Ladies(BAL)
We already know how blockchain is impacting the world around us. It is no doubt on how we as humans can take benefit of the distributed ledger technology. However, some fundamental questions need to be answered including how it impacts humanity and whether it can be trusted. That's where the Blocktech Women Conference 2019 comes in. It is a premier conference that will answer all the questions related to blockchain and its adoption.
The main focus of the coverage is to converge African women and help them in religious, social organizations including the blockchain and FinTech industry.
The theme of the conference is "The Looming Financial Revolution" - An Engine For Social Tranquil. This also means that the main audience of the event will be 80% renowned female blockchain experts who will be speaking at the event. The rest 20% will be the main attendance. To facilitate women growth, the ratio has been set and will help African women to take advance of the blockchain technology and its growth. It makes the Blockchain Women Conference 2019 as one of the most significant female conferences in Africa.
VIP BlockTech Inspired Dinner Night
You can take advantage of the networking event, the VIP BlockTech Inspired Dinner Night by registering for it separately. There are only one registration fees for this event. You can pay in FIAT or BTC.
FIAT - 10500

BTC - 30$ in BTC
Theme - Blockchain Conference Nigeria
The theme of the conference is the Looming Financial Revolution. Here, both local and international collaborators are going to share their real-life experience and showcase how blockchain technology can be mastered across different sectors. They will cover FinTech, blockchain technology and also go through the different blockchain elements.
There will be two sessions to ensure it is more adaptable.
General sessions: The general sessions will be for attendees who want to explore the basics of blockchain technology and also learn how it can be used in real-life scenarios.
Training Sessions: The training sessions are in-depth guidance on blockchain with real-world examples. The training will be provided on Blockchain/dApps development, cryptocurrency trading, entrepreneurship, and Launch of BAL Credit Access Scheme(CAS)
Speakers
There will be prominent speakers at the event. Some of them are listed below:
Doris Ojuederie - Founder, Blockchain African Ladies

Faith Obafemi, Blockchain Lawyer

Alakanani Itireleng, Founder, Satoshicentre.tech, Botswana

Eseoghene Mentie, QA Manager, uPort, ConsenSys

Eman Herawy - Blockchain Developer, Egypt

Daisy Ozmi, Director at Blockchain for Social Justice, USA

Heaven Bereket, Chief Business development officer for Edtech Company

Maureen Lawson Murat, Principal and Attorney at Crowdie Advisors, LLC(USA)

Sinclair Skinner, Co-Founder of BitMari(USA)
And many more!
Tickets
Conference - Free

VIP BlockTech Collaborative Cocktail Night - $50
Statistics
Participants - 800

Speakers - 20

Panelists - 10
Conference location
Virgin rose Resorts
Should you visit the Blockchain Women Conference 2019?
Blockchain Women Conference 2019 is a great place to attend if you are in the blockchain. They have great speakers and also have no entry fee whatsoever.