BlockSec Conference 2020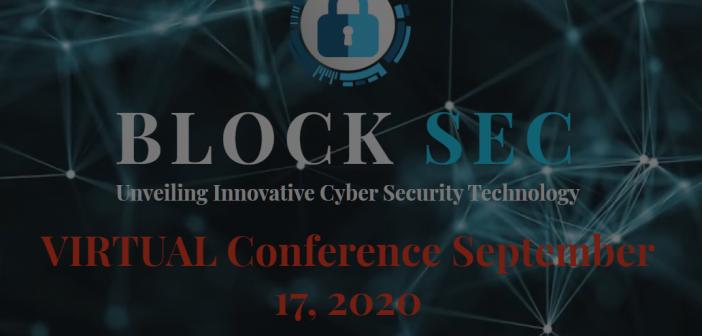 BlockSec Conference 2020 is one of the first virtual web 3.0 cyber events. It is a one-day event that is going to take place on 17th September 2020.
The focus of the BlockSec Conference 2020 will be on the mechanisms and security use cases related to Web 3.0 technologies, including artificial intelligence, blockchain, virtual reality, augmented reality, 5G, and internet of things. They will discuss the evolution of Web 3.0.
The virtual conference will connect early believers, pioneers, established opinion leaders, and influencers. The conference also welcomes experts, influencers, and strategists, from Banking, Big Data, and Cybersecurity.
Speakers
There will be some amazing speakers at the conference, including the following:
Dr. Rob Splading III, Nation Security Policy Strategist

Robin Lam, CEO, and Co-Founder, BlokTech Networks

Paul Foley, Co-Founder and CEO/CTO, CTEXMarkets

Talia Boiangin, Researcher, Privacy Regulations

Fernando Rivero, Co-Founder, Mining Disrupt

Michelle Trsing, Founder, Elevate the Blockchain. Inc.

Darrell Coleman, Co-Founder and COO, CTEX Markets

Rajendra Gangavarupu, Machine Learning/Artificial Intelligence

Stefan Fouant, Network Security Expert

Dr. Stefan Beyer, CEO, Cryptonics Consulting

Jai Fatania, Digital Strategist and Business, Blockchain and Technology innovations

Kenneth ChunnngGram Jr., Kentek Security Consultants

Angeleen Wilson, Georgia Blockchain Coalition

James Woodall, Silver-life member

Corey Mccauley, Airforce Veteran
And many more!
Tickets
General Pass - Early Bird → $45.00

VIP Admission - $65.00

General Pass for 2 - $85.00

Group Admission - $200

General Admission - $45
The BlockSec Conference is where you meet leaders and explore the world of next-generation solutions. 
They will also be available on the Teeoh platform where they will enable the conference attendees to use unique tools. This will also let you use any of your mobile devices, including tablet, computer, and mobile phones. It will give you a sensation of attending a real-life event.