BlockDown 2020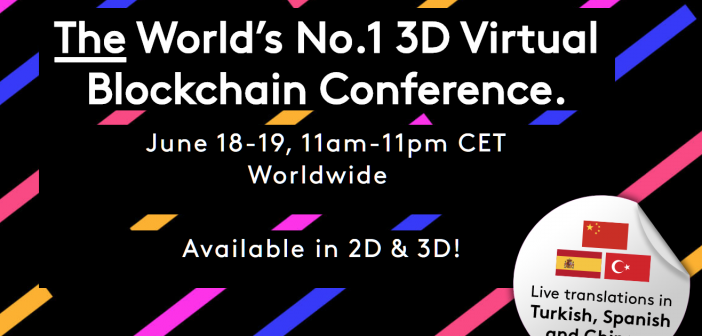 Just like other conferences, Blockdown 2020 has also decided to move to a virtual conference. They are also one of the first virtual conferences that are going to make the use of 3D virtualization to connect with the audience. Moreover, it is also available in 2D for those who do not have access to 3D equipment.
The conference is going to take place from 18th June to 19th June.
The 3D virtual conference will be live-streamed on multiple platforms including Bitcoin.com, Chain News, CruptoNoticias, and CryptoSlate.
By joining the BlockDown 2020 conference, you will be able to meet amazing people who had made a considerable impact on the blockchain and cryptocurrency sphere. 
More About BlockDown 2020
At the BlockDown 2020, you will be able to get a great experience on multiple things including the ability to get access to illustrated infographics drawn live. It will also be sharable in an instant and participants can actually make a takeaway from it. 
It also offers exclusive networking opportunities where you will be able to meet the best people in the blockchain industry and that too virtually!
To make the virtual event more appealing, they will also offer 3D Avatar Fireside Chats. Roundtable sessions will also be part of the event. As a participant, you can virtually roam around in the Virtual Exhibition Booth area where you can meet project teams and speak directly to them.
Also, there will be Q&As, AMAs, and polls for all the participants which will feature keynote speakers and also cover all the trending topics. Lastly, you will be able to create a relationship between influencers and crypto media.
In a glimpse, the BlockDown 2020 conference can be explained as follows:
Attendees → 3000+

Media → 100+

International Speakers → 100+

Hours of Content → 24
Agenda
To get a glimpse of what they are going to offer, let's go through the agenda for the two-day event.
The first day will see the following agenda
Host talks by Erhan Korhaliller, Founder EAK Digital & Instanbul Blockchain Week

Leftovers of privacy in Covid-19 by Roxana Nasoi, CSO at Tagion

Panel discussion of crypto space in the gaming industry by Kyn Chaturvedi, Sebastien Borget, Nic Watt, Alex Connolly

Blockchain in a post-pandemic world by Da Hongfei

Crypto Investments by On Yavin

Panel discussion on crypto adoption, regulation, and future by Zia Word, Richard Muirhead, Galen Law-Kun
And more!
The second-day agenda will include:
Panel discussion for crypto industry enterprises

Blockchain development in Turkey by Bora Erdamar

Blockchain and its impact on Society and Blockchain by Jolanda ter Maten

Redefining stable in times of Covid-19 by Ido Sadeh Man
And more!
To know more about their agenda in full, check out their official page.
Speakers
There will be some amazing people at the conference who will speak their mind.
Akon, Chairman & Co-Founder Akoin

David Schwartz, Cheif Technolgy Officer, Ripple

Roger Ver, Executive Chairman, Bitcoin.com

Nicholas Merten, Host & Founder DataDash

Jed McCaleb, Co-Founder, and Cheif Architect Stellar

Loi Luu, CEO, Kyber Network

Alex Mashinsky, CEO, Celsius Network

Vinny Lingham, CEO, and Co-Founder, Civic

Bobby Ong, Co-Founder, CoinGecko

Erhan Korhaliller, Founder EAK Digital & Instanbul, Blockchain Week

Lili Zhao, Director, Neo Global Development

Bobby Ong, Co-Founder CoinGecko
Tickets
The tickets will be as follows.
General Admission → Free. Here, the participants will be able to access stream content in 3D and 2D environment

Business → £20.00+ £2.15 Fee. Here, you will get access to 3D Pre Party Events, Q & A available during and prior events. You will also get $20 off in-game Blocks.

VIP → £50.00+£4.49 Fee. Here, you will get access to Sunset Boat Party and exclusive Mastermind Session's, VIP Lounge, and Speakers RounTable Events.