Blockchain World 2030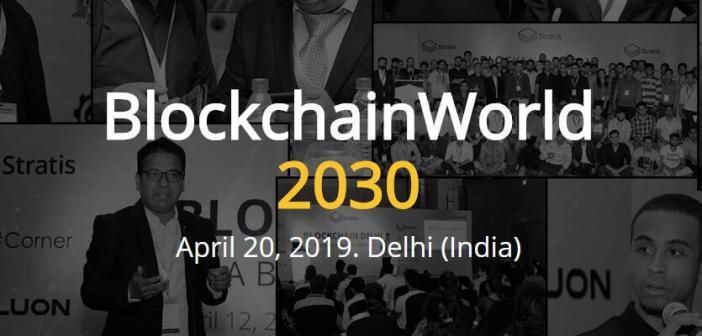 India has grown quite a superpower when it comes to technological revolution. That's why it is also seeing a lot of conferences when it comes to groundbreaking technologies such as blockchain. One such event is BlockchainWorld 2030 which is going to be held on April 20, 2019.
It is a premier conference for blockchain enthusiasts and developers. It offers a way for them to keep up with all the changes in the technology field. To provide that value, industry veterans speakers and many professional experts participate in the event. They will share their experience and teach how to adapt and create blockchain technology for real-world use-cases.
Blockchain World 2030
Blockchain World 2030 is a one-day conference which lets you meet with blockchain experts and workshops. The speakers are the main attraction for the event. Some of the notable ones are as follows.
Andrew Bull - CEO and Founding Partner, Blockchain Law LLC
Eloisa Marchesoni - STO, ICO and IEO advisor
Mahens Chand - Founder C# Corner
Nishith Pathak - International Speaker
Ritesh Modi - Cloud architect
Navdeep Garg - CEO Revinfotech
Vishal Nigam - CEO and Founder of DIYBlockchan and Blockstein
Samrat Kishor -International Speaker, Manager at Accenture strategy
and many more!
Agenda
As it is a one-day conference, it has limited events. Some of the key events are as follows.
State of Blockchain
Blockchain for developers
Blockchain in Banking and Finance
Panel discussions
What are dApps
Digital Assets
Consensus Protocols
Digital Identity, Blockchain, and Security
Smart Contracts Deploy and Build
Blockchain as a Service
Hyperleder Fabric
Blockchain and Healthcare
Apart from this, there will be an opening and closing ceremony.
Venue
The venue of the conference is the Leela Ambience Convention Hotel which is located in Delhi.
Registration and Tickets
2500 INR - Full access to discussions and panel, prize raffle, breakfast, Interactive Q&A sessions, lunch& Coffee/Tea included (Sold Out - Early Bird Offer)
3000 INR - Same as what 2500 INR offers, just regular pricing
3500 INR - Everything that 3000 INR ticket has to offer plus dinner with speakers and a private meet and greet.
Team
The conference will not possible without a proper team. The team behind the conference include the following people.
Adamya Moudgil - Conference Director
Bharat Gandass - Operations Manager
Vandana Arora - Community Manager
 Aadil Singh - Strategic Partner
Charu Pandey  - Digital Marketing Expert
Manish Tewatai - PR Manager
Should you attend Blockchain World 2030?
If are in India and is looking to gain exposure in the field of the blockchain, then we would recommend the conference for you. It has experienced speakers, great content and an excellent agenda.