Blockchain Summit London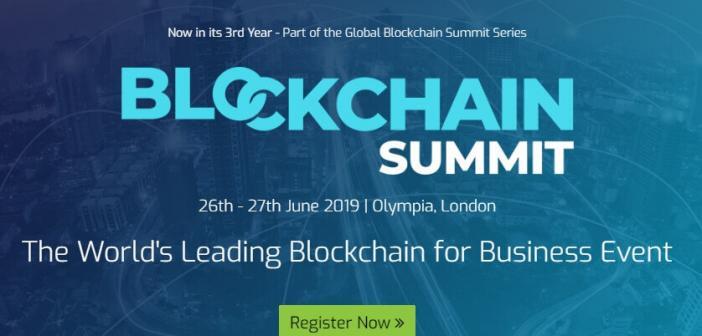 Blockchain Summit London gives you the opportunity to explore what blockchain has to offer. It is the world's largest Blockchain Business Event. It will be held at Olympia, London from 26th June to 27th June 2019.
The two-day conference will connect business decision makers, industry leaders, and tech innovators. The discussion would be on blockchain for business and distributed ledger technology(DLT).
The conference is taking place for the last three years. Blockchain Summit takes place in significant places including Frankfurt. This time, it is going to take place in London. It is also marketed as Europe's leading blockchain event for business.
Speakers
The first thing that you will notice about the summit is the vast number of speakers who are attending the conference. Some of the famous speakers include the following.
Amit Varma - CTO, CitiBank
Lars Henneberg - VP, Maersk
Margot James - Minister of state for digital culture, sport, and media.
Adam Lalani - Group head of IT, Tristar Group
And many more!
Blockchain for Business
The summit is all about improving business all across the world with the help of blockchain. Many industry sectors will be affected by the blockchain, and most of them are covered in the event itself. They include the following.
Insurance
Healthcare
Telecoms
Banking and Finance
Supply Chain and Logistics
Marketing and Advertising
Advert
Charity
and ten more industry sectors.
Why attend the Blockchain Summit London?
If you are residing near London, then you can give Blockchain Summit London a chance. So, what makes it so appealing? Let's explore.
Inspiring Speakers: The speakers are the backbone of any event. This is also true here. With over 200 visionary speakers, the event becomes a great place to spend your time and listen to their wisdom and experience. These speakers are industry-leading experts that will also discuss real-world case-studies and make sure that companies can leverage what at stake here.
Quality Content: The content is also at the cornerstone of a great event. This is true for Blockchain Summit London as there will be excellent content regarding Distributed Ledger Technology. The content will discuss the challenges and opportunities that surround the blockchain technology, and you will get the chance to discuss all of these with the industry leaders. You will get 50 hours of original content.
Topics: Plethora of topics will be discussed on the platform. It can be finance, healthcare, retail, supply chain, etc. There will also be panel discussion surrounding these topics.
Amazing Networking
Blockchain Summit London will also offer great networking options for all the attendees. You will be able to meet over 200 industry-leading speakers, 5000 progressive professionals, innovative tech start-ups, global companies, and others. This way, you will be able to unlock the blockchain technology potential and maybe get an opportunity to work on a great project.
Agenda
The schedule of the Blockchain Summit London will be action-packed. There will be panel discussions, keynotes and much more. Few of the key events include the following.
Entering a new era of blockchain
Enterprise Blockchain revolution
Panel discussion: How to solve trade finance nightmares
Interview on making DTL more accessible to everyone
Why Blockchain needs design
and much more!
Register
For registration purposes, you need to visit their website and fill up their form.