Blockchain Summit London 2020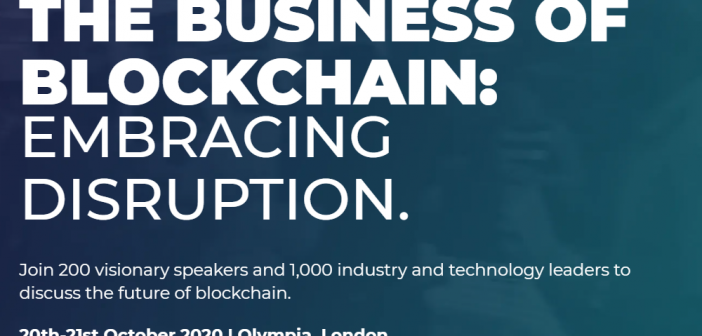 Blockchain Summit London is all about embracing disruption. It is going to take place from 20th to 21st October 2020. It is a two-day conference which will take place in Olympia, London.
At the event, you will be able to meet 1000 technology and industry leaders and 200 visionary speakers where they will discuss blockchain's future.
Blockchain Summit London 2020
You will be able to meet amazing speakers at the event. Some of the amazing people out there:
Marjan Delatinne → Head of Global Banking, Ripple

Roberto Garcia → Head of Blockchain Engineering, Banco Santander

Dale Chrystie → Business Fellow, Blockchain Strategist, Fedex

Mariana Gomez De La Villa → Distributed Ledger Technology Program Director, ING

Dean Demellweek → Digital Transformation Head & Blockchain Evangelist, BNP Paribas

Ruben Theva → Global Director, Anheuser-Busch, InBev

Lex Sokolin → CMO & Global Fintech Co-Head, ConsenSys

Gaurav Aggarwal → Head of DLT and Tokenisation - Senior Strategy Manager, HSBC

Paulina Purchzynska → Director of IT initiatives and testing, PKO Bank Polski

Ritesh Jain → COO - Digital Technology, HSBC

Dotun Rominiyi → Blockchain Strategy - Emerging Technologies, London Stock Exchange Group
And many more!
Agenda
The agenda of Blockchain Summit 2020 are as below:
20 October 2020
09:30 - 09:40 → Chair's Opening

10:00 - 10:20 → Unlocking Blockchain's Full Potential - What's in it for Enterprise

10:20 - 10:40 → Fluent Data Exchange and Big Data Analytics with Blockchain
There will be two tracks, including Blockchain Vision and Enterprise Blockchain.
Blockchain Vision

Enterprise Blockchain
In the blockchain vision, there will discuss blockchain digital assets, DeFi, the value of blockchain, and many more! 
The enterprise blockchain track will cover the enterprise side of the blockchain.
Tickets
The tickets for the Blockchain Summit London 2020 will be as follows:
Free Pass

→ It is free for buyers and decision-makers

Showcase Pass

→ £50, with 200 passes available, you will get access to showcase expo and demo program with networking app, and conference materials

Executive Pass

→ £850, a full-fledged pass which will contain everything that showcase offer plus networking drinks reception, spotlights, keynote plenary theatre 

VIP Networking Pass

→ £1,800 which will contain VIP access to the event.

Digital Conference Pass → Free, it will give anyone access to the conference during the pandemic