Blockchain Summit Hong Kong
Featured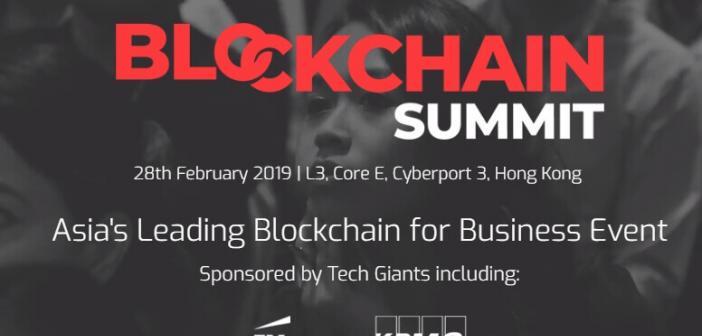 Blockchain Summit Hong Kong is a "blockchain for business" event in Asia. It is one of the must-attend events in the industry to help you better understand blockchain technology and all future challenges and opportunities associated with it.
The scheduled of the event is 28th February 2019 at L3, Core E, Cyberport 3, Hong Kong. The one-day event saw a gathering of 200 attendees alongside 60 speakers and 15 exhibitors.
The demographic spanned across 18 different industry sectors including but not limited to Backing & Finance, Supply Chain & Logistics, Insurance, Energy, Healthcare & Pharmaceuticals, and much more.
In case you missed it, no need to worry as DX Asia and Blockchain Summit Singapore is coming up 20th August 2019. Here is a glimpse of all the important details so you can get an idea of what to expect at Blockchain Summit events.
Speakers
Blockchain Summit Hong Kong welcomed a congregation of industry-leading speakers to educate business and enterprises on how blockchain is impacting and will revolutionizing businesses worldwide.
Some of the most notable speakers who shared their insight at the event:
Michael YIP - Chief Innovation Officer, Modern Terminals Limited

Ritesh Sarda - Chief Information Officer, Sun Life Financial

Will Myles - Managing Director Asia-Pacific, RICS

Lionel Loue - Chief Commercial Officer, CargoSmart Limited

Jade Tin Hei Lee - GM, Business Analytics & Technology Application, Chow Tai Fook

Samita Malik - VP, Business Development & Strategy, Aegon Asia
Key Notes
Here is a quick overview of all the different topics that were tackled in the Blockchain Summit Hong Kong 2019.
Bringing Enterprise to Blockchain - by Keeneth Hee, Oracle.

Case Studies and RoadMap on Blockchain Industrialization -

Warren Wang, E&Y.

Leveraging Blockchain to Transform Supply Chain by

 Lionel Louie, CargoSmart.
Blockchain Case Study by

William Genovese, Huawei
Provenance-as-a-Service for Supply Chains

- Adam Stuckert, KPMG
Proof of Concepts with Blockchain Technology

- Chi Man Ngan, AIA
Panel

: The Revolutionary Potential of Blockchain on Enterprise
Panel

: Impact of Blockchain on the Financial Industry
Blockchain's Impact on Commercial Real Estate Investment

- Keith Hilden, Relex.
Digital Asset Finance

 - Kevin Loo, CryptAM Services.
Increasing Trust and Customer Confidence Using Blockchain Retail by

- Jade Tin Hei Lee, Chow Tai Fook
Future of Partnerships in a Blockchain Era

- Narayanan NS, Accenture
Panel

: A Cross-Industry Perspective on Blockchain
Panel

: Tokenisation Regulations Discussed.
And many more!
Agenda
The Blockchain Summit Hong Kong 2019 was organized to establish a platform where industry leaders can discuss opportunities regarding revolutionary technology and share valuable insight.
The event also serves as a networking platform where you can get in touch with progressive professionals who are successful or rather ingeniously utilizing blockchains to add more value to their organization.
Event Organization
The Blockchain Summit Hong Kong 2019 was expected to feature 80 industry leading speakers delivering over 50 hours of unrivaled content in the blockchain industry.
The event was set to being at 9.20am with the chair's welcome and end in the afternoon, near 4 pm. In between two short networking session was accommodated along with the breakfast break and the lunch break.
Furthermore, all the content at the event was divided into two segments - one for Blockchain Vision and the other one for Innovation. Each topic took place simultaneously and in different theaters.