Blockchain Summit Frankfurt
0% Discount with code: 101bc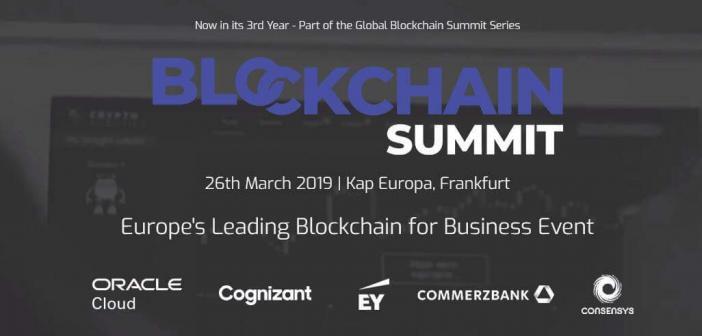 Blockchain Summit is one of the largest blockchain conferences out there. It is continually being held for the past three years. It is mainly a business event that is held at Kap Europa, Frankfurt. The event is so popular that is Europe's leading blockchain for Business event.
So, what's special about it? The first thing that you will notice how it enables anyone to connect with industry leaders. It is connecting 1500 industry leaders that span from different domains including tech innovators and business decision makers. The duration of the conference in only one-day, but you will be able to witness the innovation that is going through distributed ledger technology(DLT) and blockchain.
Event's Highlights
If you register for the event, you will be able to witness a lot of things. The key event highlights include the following.
Get connected with more than 1000 industry professionals from all over the world.
Proper case studies presented at the event including the popular ones such as Philip Morris International, Enel Group, ING, Zurich, Daimler Financial Services, T-Labs, and so on.
Witness the presence of leading tech companies including Lenovo, Oracle, ConsenSys, Alibaba, Bosh and so on.
Learn what's happening in the world of token offering and crypto including Commerzbank, Boerse Stuttgart, Accelerator Frankfurt.
Learn from the demos that are shown on the event floor.
Industry Leading Speakers
From the last 3 years, leading industry speaker are attending the conference. In 2019, there are many prominent speakers from companies such as HSBC, Commerzbank, UniCredit, DB, Zurich, Oracle Cloud, Kourvala Innovation, and so on.
If you are interested in speaking at the event, you can email at [email protected] You can also fill the form that is available at the speaker's page.
2019 Agenda
As this is a one-day conference, almost everything is packed nicely. From 9.20 am, you will be able to witness a lot of buzz at the conference. The key events on the floor include the following.
Chair's Introduction
Introduction to Blockchain in 2019
Enterprise related Blockchain presentation
IoT to Economy of Things
Crowdfunding for Success
Live Demos including KYC use cases, Vision to Realisation, Decentralized Protocol for Access Management and so on.
Blockchain at European Space Agency
Blockchain's role in Education
And much more!
Industries that are covered in the conference
The conference gives you a complete outlook on Blockchain for Business. They will cover 18 industry sectors with limitless solutions.
The key industry sector includes the following.
Supply Chain and Logistics
Insurance
Energy
Transport
Healthcare and Pharmaceuticals
Property and Construction
Charity
Legal
Developer
Entertainment and Content
And so on.
Registration Fees
There are three types of tickets available for registration. They include the following.
Free Exhibition Access: €35 on the Door, Free Now(Pre-Registration) -- Access to the Expo Show Floor.
Standard Pass: €595 on the Door, €500 Now(Pre-Registration) -- Access to all Tracks and Theaters including seating at 1st come, 1st serve.
Executive Pass: €995 on the Door, €800 Now(Pre-Registration) -- Access to everything that the event has to offer including VIP and Speaker Lounge Access, Fast Track Registration, Networking App Inclusion, and so on.
Why attend the event?
There are many events out there that are related to the blockchain. What makes this one special and why should you attend it in the first place? Let's explore the things that give the event value.
Inspiring Speakers: As a visitor, you get access to more than 100 visionary speakers. They provide extensive knowledge related to blockchain field. You also get the chance to speak to the industry leaders and learn from case studies.
Exceptional Content: The Blockchain Summit Frankfurt is a leading conference in Europe as they offer great content related to the blockchain. You get access to content related to different industries such as Supply Chain, Finance, Insurance and so on.
Business leaders empowered the blockchain event: The blockchain summit is completely dedicated to the Business and is a one-stop event for business leaders.
Statistics
Progressive professionals: 1500
Industry leading speakers: 100
Location: Frankfurt