Blockchain Revolution Global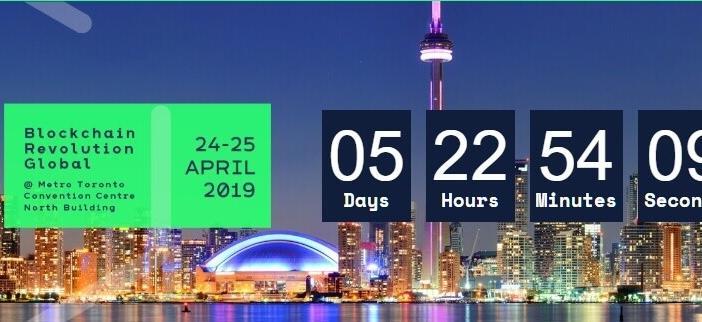 Blockchain Revolution Global(BRG) is one of the world premier's enterprise blockchain event. It is going to take place in Toronto on April 24-25. Toronto is the core of revolution and hence an excellent place for the event to take place. The BRG event is all about sharing knowledge and learning and also preparing the next generation of leaders. The key here is to prepare business and government and help them cope with the changes brought up blockchain technology.
The BRG will host interesting talks, sessions from practitioners, global CEOs and BRI researchers. Another catchy point of the event is the 360-degree stage which will help attendees to engage in one of the best learning experience. You will be able to meet leaders and audience from 20+ industries where you can discuss the horizontal and vertical transformations.
MCI Group and Blockchain Research Institute presents the event. They are a global leader when it comes to building communities.
Mainstage Speakers - Blockchain Event Toronto
The mainstage speakers for the event include the following.
Don Tapscott - Blockchain Research Institute

Richard W. Smith - FedEx Logistics

Bridget van Kralingen - IBM

Imogen Heap - Mycelia

Brian Behlendorf - Hyperledger Project

Joseph Lubin - ConsenSys

Ron Resnick - Enterprise Ethereum Alliance(EEA)
And many more!
There will be more than 100+ speakers.
Featured topics
There will be a lot of different issues that will be covered in the event. Few of them include
Blockchain for good

Government and Reg

Security and Identity

C-Suite

Financial services

Healthcare

The innovation economy

4th industrial revolution

Asset chains
And much more
Agenda
The agenda of the event is as follows
Day 1:
Accelerating the revolution

Vertical Track Leadership Sessions

Case study presentation including blockchain for good, healthcare

Networking break

Main stage keynote
Day 2
Main stage: Don Tapscott

C-Suite, Security & Identity - Vertical Track Leadership Sessions

Case Study Presentation

Networking break
And much more!
Should you attend the Blockchain Revolution Global?
If you are serious about adapting to the blockchain revolution, then you should check out the event. It has some great content to offer with decent networking options.