Blockchain Revolution Global 2020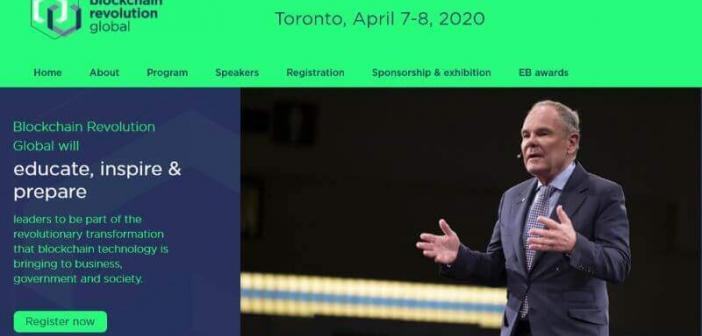 Following its massive success in 2019, the Blockchain Research Institute along with MCI group brings together Blockchain Revolution Global 2020, the event dedicated to educate, inspire, and prepare the leaders to partake in the blockchain revolution.
The event is all set to take place as a two-day event from April 7th to April 8th, 2020, in Toronto. It will feature a diverse collection of speakers from Government Institutions and Research Academies to big Fortune 500 Companies.
Speakers
Blockchain Revolution Global has listed a vast portfolio of speakers consisting of the foremost minds currently operating in the industry. You will get talks from Government Leaders, Globally renowned economists, executives from Fortune 500 Companies, and the likes. 
Here is a quick look at some of the people who will be sharing their knowledge at the event:
Don Tapscott - Executive Chairman, Blockchain Research Institution.

Brian Behlendorf - Executive Director, Hyperledger Project.

Dr. Cathy Berrera - Founding Economist, Prysm Group.

Irving Wladawsky-Berger - Research Affiliate, MIT Sloan School of Management.

Daniela Barbosa - Vice President, World Wide Alliances.

Eva Kaili - Member of the European Parliament.

Karen Bhatia - Senior Vice President, New York City Economic Development Corporation.
And many more.
There are currently over 15 speakers officially announced for the event, but more names are expected to join the list as soon as they are confirmed. The Blockchain Revolution Global 2019 saw over 100 speakers taking the stage.
An Innovative Conference Format
One of the unique aspects of the Blockchain Revolution Global is its 360-degree stage putting the speaker at the core of the event. It also integrates an innovative audio system which makes sure every single person in the audience gets to hear what is talked about on stage. The format really encourages interactive and collaborative talks.
Agenda
The program curriculum has been divided into a wide array of topics to be discussed during the two-day event. Although we don't have any official schedule or timetable to exactly know when which speaker will take the stage to speak of what topic, we do have an idea about the different areas that are going to be touched in the event.
Blockchain Sustainability.

Blockchain and its Implication on Security and Identity.

Blockchain Resources.

Blockchain & Supply Chains.

Blockchain and the Future of Smart Cities.

Blockchain and its impact on Healthcare.

Blockchain C-Suite.

Blockchain and its impact on FinServe companies.

Blockchain and Government Regulations.

Blockchain Applications.
And the likes.
Why You Should Attend?
Blockchain Revolution Global isn't targeted at everyday crypto traders or the average blockchain enthusiasts. Although you can join, the real demographic for the event are startups, businesses, and corporations who are actively adopting Blockchain technology into their operations.
Although the event is currently in its second year, it has established itself into a global community for enterprise leaders in blockchain. It is one of the preferred gatherings for the top minds in Blockchain to come up stage and share their searches and findings.
The conference formats also call for interactive and collaborative experiences between the speaker and the audience making it the perfect platform for inspiring talks, discussing case studies and much more.
So if this means like something you would enjoy or participate in, then get your tickets before they are sold out.
Ticket Prices
The standard price for the event is $1040 per person. However, if you get it before January 31st, then you can get an early bird discounted price at just $890, for the two-day event.