Blockchain Life 2019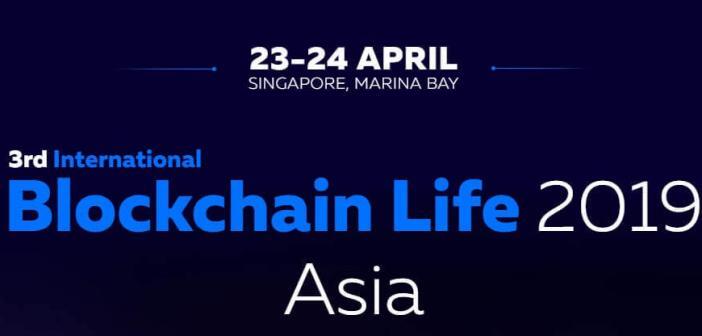 Blockchain Life 2019 is one of the upcoming forums on cryptocurrencies and blockchain. It is the 3rd international iteration for the forum. Until now, it has been seen as one of the most important forums in the world that is related to cryptocurrencies and blockchain.
Blockchain Life 2019 will be held in Singapore, Maria Beach
Statistics
3000+ attendees
Countries - 3000+
Speakers - 80+
Booths - 120+
Tickets
Standard - $169/0.046 BTC,  individual badge, 2 days access to the main hall and exhibition area, certificate of participation
Business - $599, 0.17 BTC, Everything that the standard ticket offers plus access to coffee-break, lunch, and video of the presentation
VIP - $929/0.25 BTC, everything that the Business ticket has to offer plus VIP registration, first-row reserved seats, 2-day lunch with speakers, meeting/parties invitation, limited tickets - 80
About Blockchain Life 2019 - Blockchain Event Singapore
Blockchain Life 2019 is a popular and famous event with real influence on global blockchain development, international crypto market, and world digital economy. The speakers on the forums are the best experts from the field of cryptocurrency and blockchain. The forums will take place for the period of 3 days, where you will be able to hear amazing speeches and great deals in the expo zone.
The event will take place in Singapore.
The organizer of the forums includes Listing.Help, Jets Capital and ICOTOP.
Who are the attendees?
Crypto enthusiasts: Crytpo enthusiast from all over the world will be attending the forum. They will not only share knowledge but also share their way of earning.
Investors: Get to learn how investors think and maybe ask them to invest in your project?
Business owners: From business owners, you can learn how to invest your money in blockchain and cryptocurrencies.
Startups: Learn how startups operate and work with their different stages of the project including team, advisors, funds, traffic and so on.
Miners: Learn how miners work and earn through the mining process
Developers: And, lastly, developers who can help you understand the thought process of how blockchain apps work.
Topics
There will be a wide range of topics that will be covered in the Blockchain Life forum. They are as follows.
Blockchain - Use cases, security, privacy improvements, tokenization, blockchain's future, decentralized identity, types of blockchain and much more.
Cryptocurrencies - Top coins, stable coins future, trading tips, cryptocurrency portfolio, legal innovations, legal innovations, and much more
Startups - Global trends for STO and IEO, Attract large investors and funds, ICO future, growth hacking for IEO/STO/ICO, and much more!
Mining - how mining works in 2019, best location mining, mining business optimization, best manufacturers, how to make a profit(new ways) and much more.
Speakers
Top speakers will be taking part in the forums. The notable ones are listed below.
Roger Van - CEO, Bitcoin.com
Sergei Khitrov - Jets Capital Founder
Alex Reinhardt - CEO and founder of ELVN Cryptomessenger
Tim Draper - DFJ and Draper Associates Founder
Elias Tan - NEO Singapore Lead
Ke Su - Bitmain Sales director
Saline Bo - AA Union Capital
Juliet Su - Director of RACIB China
Agenda
It is a 2-day forum and hence has a good number of events to follow. Few of them are listed below.
Day -1
Confidential transactions on Litecoin
Impact of Venture capital firms and institutional investors on cryptocurrency
Decentralized Finance Applications(DeFi)
According to CoinMarketCap
The Future of The Liberland
Day -2
Investment strategies and trend (Primary market)
StrartUp Pitch Awards
Investment strategies and trend(Secondary market)
Should you attend Blockchain Life Forum?
Blockchain Life Forum 2019 is rich on content, speakers and new ideas that you would want to witness. It has a great agenda, amazing speakers and an extensive list of topics.