BLOCKCHAIN FOR SOCIAL IMPACT & SUSTAINABILITY – VIRTUAL CONFERENCE
Featured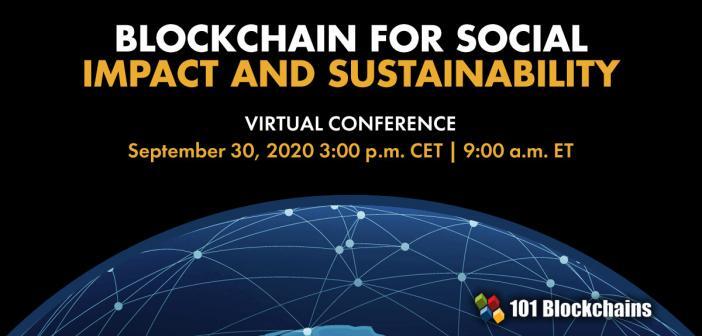 We are living in a pandemic and it is not entirely possible to go for offline blockchain events. That's why we welcome you to our next digital event, the Blockchain for Supply Chain Management Virtual Conference. It is a one-day event that anyone can join. It will start at 3:00 P.M CET/ 9.00 a.m ET.
We took the virtual conference route as it enables everyone to participate in a growing community and meet the best minds who share their experience. Our focus is to give the best minds a place to share their insights on how they are utilizing the newest technologies to implement and maintain business processes. They will also discuss the principles of consequent and sustainability on social impact.
Topics Covered
The event will cover three main topics:
Strategy
Sustainability
Social Impact
Out of these three topics, two topics will be the main focus of the conference. They will be Sustainability and Social Impact.
Social Impact: There is no doubt that supranational bodies have an everlasting impact on the social wellbeing of all the entities that are related to the value chain via the guidelines and principles set by them. The value chain starts from the source of the goods until it reaches the consumer, and also reverts back to the source thanks to the circular economy behaviors and practices.
It is important to acknowledge that the system needs sustainability and social equality and it is important for the public to fight and take action on the behaviors and practices. This can be done by making businesses to adhere to social equality and also have an unequivocal voice against the bad practice.
Individuals need to go around their personal judgment and take cues from guidelines that are not easily manipulated or influenced. As a matter of fact, each individual should derive his opinion based on the information and facts that are derived from a verifiable source. Also, reaching the goal is hard, but not impossible and it is the technology that we use that will help us to reach the goal of a balanced social impact that is not only reliant on just mega-corporations.
Sustainability: Sustainability is important for achieving the goal. Also, the best sustainability practice requires the use of mutual respect and collaboration between the value chain parties. Apart from that, sustainability depends heavily on complying with corporate social responsibilities principles. However, that's not the case everywhere as compliance is making it hard for small suppliers as they suffer from low bargaining power and contractual asymmetry.
Sustainability also requires good environmental practices and respect for financial and social principles where businesses can track activities and other entities for the best possible outcome.
Key statistics
Attendees: 1000+
Speakers: 8+
Topics: 3+
Event Program(CET/ET)
Opening Speech: 15:00/9:00 am
Opening Keynote: 15:05/9:05 am
Panel -1 - Sustainability: 15:30/9:30 am

Maria Rosaria Ceccarelli, UNECE, Chief, Trade Facilitation Section
Ella Cullen, Minespider, CMO & Co-Founder
Mehran Hydary, UNICEF Innovation, Blockchain Product Manager

Keynote - Social Impact: 15:55/ 9:55 am

Professor Olinga Taeed Ph.D. FloD, Expert Advisor and Council Member China E-Commerce Blockchain Committee

Panel 2 - Social Impact: 16:20/10:20 am

Genevieve Leveille, Agriledger, CEO
Anca Bogdana Rusu, cLabs, Partnerships, Policy and Advocacy

End of Conference: 16:45/09:45 am
Featured Speakers
The event will see some of the best minds in the blockchain ecosystem share their experience and talk about their thoughts about the event topics such as sustainability, social impact, and strategy. The speakers at the Blockchain for Social Impact and Sustainability are as below:
Professor Olinga Taeed PhD FloD - Expert Advisor and Council Member at the Ministry of Commerce, China E-Commerce Blockchain Committee
Genevieve Leveille - CEO, Agriledger
Mehran Hydary - Blockchain Product Manager, UNICEF Innovation
Anca Bogdana Rusu - Partnerships, Policy and Advocacy, cLabs
Ella Cullen - CMO and Co-Founder, Minespider
So, what are you waiting for? Become part of the upcoming Blockchain for Social Impact and Sustainability virtual event by clicking on the event page now!