Blockchain for Financial Services Global Summit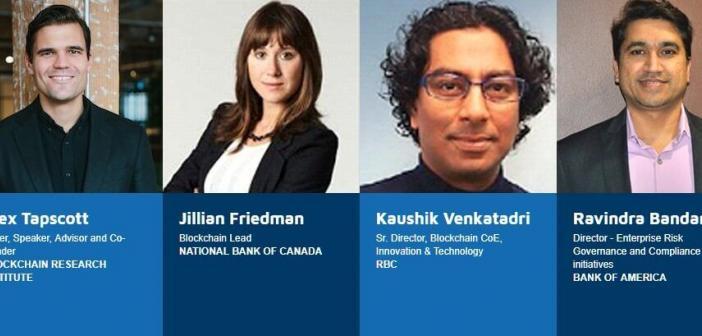 Blockchain for Financial Services Global Summit is planned as a two-day event to be held on June 4th and 5th of 2019. Taking place at Toronto, ON, the summit aims to draw a line between the hype and reality surrounding blockchain so that attendees can understand the true value of blockchains and how it aims to revolutionize the financial sectors.
The event will bring together the top innovators and industry leaders when it comes to the adoption of blockchain technology in financial institutions. You will receive insight from early adopters of the technology and also educate yourself regarding all the latest developments taking place.
Agenda
The conference is set to start early morning at around 7.30 am with breakfast and the registration process. After that, throughout the day, different industry-leaders will share the stage and provide their insight and knowledge on the financial industries in the light of the blockchain revolution.
Here are some of the topics that are scheduled to be covered in the discourse:
Blockchain and how it is revolutionizing the financial industries.

How Blockchain can impact and benefit your particular sector.

Blockchain and its use for risk mitigation.

Implementation of Blockchain projects that goes beyond proof-of-concept.

Blockchain and its implication in AML and KYC compliance.

Blockchain and its use in fraud mitigation.

Different blockchain technology showcases by Fintech companies.

A Case Study on the Consortium-based Blockchain Development projects.
Speakers
The Finserv blockchain global summit is set to bring together various industry leaders and pioneers in adopting blockchain to Fintech services. Here is a quick mention of some of the speakers who will be sharing their knowledge and insight:
Alex Tapscott, Writer, Speaker, Advisor and Co-founder, BLOCKCHAIN RESEARCH INSTITUTE

Jillian Friedman, Blockchain Lead, NATIONAL BANK OF CANADA

Kaushik Venkatadri, Sr. Director, Blockchain CoE, Innovation & Technology, RBC

Ravindra Bandaru, Director - Enterprise Risk Governance and Compliance initiatives, BANK OF AMERICA

Jim Skipper, AVP & Chief Architect, SUN LIFE FINANCIAL

Moiz Kohari, Senior Vice President, Global Chief Technology Architect, STATE STREET CORP.

Zach Masum, Manager, Legal Services, Capital Markets Regulation, BRITISH COLUMBIA SECURITIES COMMISSION (BCSC)

Shawn L. Graham, Deputy General Counsel, Retail Banking & Wealth Management Legal Department, HSBC BANK CANADA
Why Should You Attend?
If you are enthusiastic about the distributed ledger technology and want to understand how it is going to impact and revolutionize the financial sector as well as how you can capitalize on it, then this summit is a must go.
Here are some of the key knowledge you are bound to take away from the event:
A detailed understanding of why blockchain is generating so much buzz.

Insight on what successes have already been achieved using blockchain technology.

A thorough understanding of the difference between private and public blockchain.

A head-start when it comes to adapting your company for blockchain.

Socializing opportunities with high-profile members from different financial industries, blockchain collaborators, consultancies, and research firms.