Blockchain For Business Summit: Form Hype To Action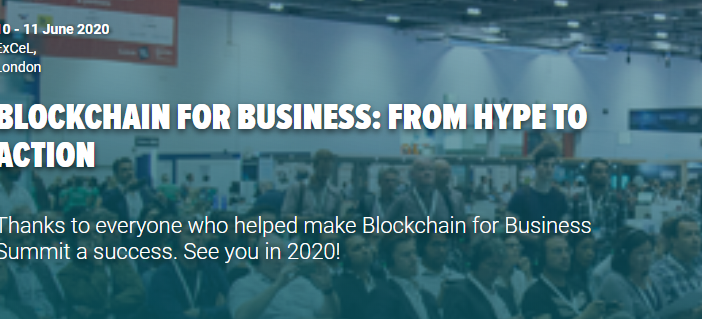 Blockchain For Business Summit is a two-day summit that is going to take place at ExCeL, London. It is part of the TechXLR8 London Tech Week. At the event, there will be a focus on real-world use cases and not the hype surrounding cryptocurrencies and speculation surrounding it.
The attendees will also get access to the TechXLR8 expo. The expo will offer access to enterprise attendees and expert speakers. The topics that will be covered include IoT, AI, and blockchain.
Statistics
15,000 attendees

300+ exhibitors

600+ speakers

Numerous networking opportunity

Live demonstration
Speakers
Excellent speakers will be speaking at the event. Some of them are as below.
Mariana Gomez de la Villa, ING, Distributed Ledger Technology Program Director

Maarten Ectors, Legal and General, Chief Innovation Officer

Ville Sointu, Nordea, Head of Emerging Technologies

William Lovell, Bank of England, Head of Future Technologies

Huw Saunders, Ofcom, Director, Network Infrastructure

Shahar Steiff, PCCW Global, AVP New Technologies

Vivek Zakarde, Reliance General Insurance, Head of Data Analytics

Dean Demellweek, BNP Paribas, Blockchain Evangelist, Digital Transformation Leader
Networking opportunity
There will be an excellent networking opportunity at the event. You will be able to do networking with people from different verticals, including the following.
Oil & Gas

Retail

Education

Government

Banking

Insurance

Finance

Hospitality

Agriculture

Real Estate

Agriculture
What to expect from the Business For Business Summit 2020?
At the summit, you will get access to the following.
Real-life use-cases: Learn from the best use-cases that span various industry verticals, including renewables, healthcare, banking, government, retail, finance, and so on!

Practical workshops: Get to know more about blockchain by going through the blockchain workshops. You will also get to learn about the legal aspects of blockchain, AI, and IoT.

Provocative debates: Get into debates that provocative, innovative ideas.
Agenda
The agenda of the Blockchain for Business Summit is as follows:
June 10th
Registration

Chairperson's Opening Remarks

Keynote: Blockchain technology bolstering legacy systems

Keynote panel discussions: Blockchain deployment economic argument

Energy sector digitization by blockchain

Tokenization keynote fireside chat

Networking break and refreshment

Enhancing Corda blockchain privacy

Enterprise use blockchain solution

Enterprise-Grade Blockchain: Frameworks, Business Models and Frameworks

Blockchain in production keynote

Banking and Finance blockchain use-cases

Digital Wallets

Hardware-based car wallet

Speaker Meet and Refreshment Break

Blockchain Supply Chain use-cases

Automotive sector blockchain use-cases
There will also be some great agenda on June 11th. For more information, check out their official site.