Blockchain Expo North America Virtual Event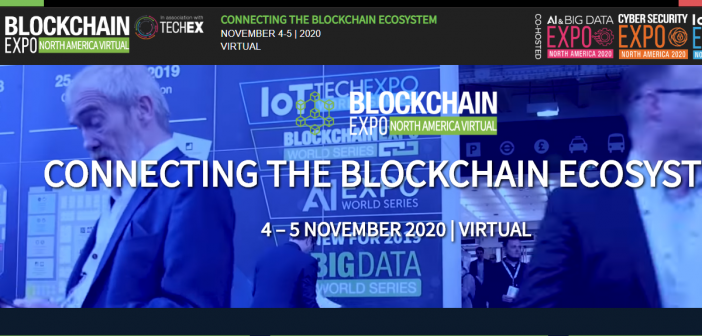 Blockchain Expo North America Virtual is a two-day virtual event that is going to take place from 4-5th November 2020. It is a completely online conference with no offline elements. It is designed to cover blockchain ecosystem leadership discussions.
At the event, the experts will share their knowledge and experience. Enterprise technology professionals will also get their chance to explore the latest strategies, implementations, and innovations for driving the business in the right direction.
Live and on-demand sessions
The Blockchain Expo North America will consist of both on-demand and live sessions. The sessions will give you the ability to explore and innovate blockchain technology in different spheres including supply chain, manufacturing, legal sectors, utilities, healthcare, insurance, retail, and more!
Apart from that, you will also get networking opportunities at the event where you can become part of the virtual meetings and get in touch with anyone you want.
Attendees
The virtual event of Blockchain Expo North America will see more than 1000 attendees from all across the world. These attendees come from different backgrounds including IT directors, Telecom providers, Startups, Government, Developers, Operators, Automotive, VCs, Technology providers, and more!
The virtual expo will have more than 40 plus speakers who will share their real-life experience and industry knowledge that they gained while working on cutting-edge blockchain technology projects. The speakers will share their thoughts via expert panel discussions, solo presentations, and in-depth fireside chats.
Topics
The topics that will be covered in the virtual conference will be diverse and will be shared via case studies, keynotes, and panel discussions. The topics will cover major industries including real estate, financial services, legal sectors, healthcare, insurance, and much more!
Tickets and Registration
The conference is free of cost. That means all you need is a device and internet connection to attend it. However, to attend it, you need the Free Expo Pass that you will only get if you register for it from their website.
Speakers
As mentioned above, there will be more than 40+ speakers at the event. Some of the notable speakers are as below.
Andrie Semenov, Coca-Cola system

Brian Behlendorf, Hyperledger

Olga Patel, The Walt Disney Company

Emmanuel Aidoo, Credit Suisse

Rahul Vijay, Uber

David Havera, GE Aviation

David Hassman, Syniverse

Meyrick Vaz, UnitedHealthcare

Mike Jacobs, UnitedHealthcare

Gavin Gillas, Yeoman's Growth Capital

Adamn Krembel, Blocwatch
And many more!
Agenda
There will be tons of topics that will be covered at the Blockchain Expo North. These topics will be shared with the audience via presentations, keynote, virtual panel, and more! We suggest checking out their agenda page to learn more about it as it is not practical to list them here.
Statistics
Attendees: 1000

Conference tracks: Virtual

Speakers: 40+

Director Level and above: 56%