Blockchain Expo Europe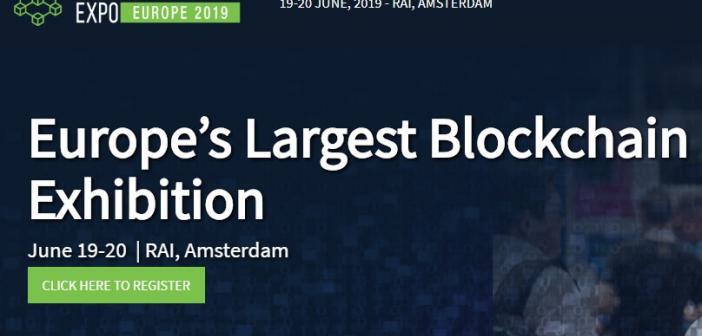 Blockchain Expo Europe 2019 is one of the largest conferences and exhibition in Europe that is related to the blockchain. It will be held in RAI, Amsterdam, where you be able to witness the industry-leading speakers. As an attendee, you will be able to get involved through bespoke 1-1 meetings, and present.
The industry-leading speakers will also do expert panel discussions and case studies. So, how come it is the biggest European blockchain exhibition? The numbers speak for themselves as it has 10,000 attendees, four co-located events, 21 conference tracks, 500+ speakers and 350+ exhibitors.
More about the Conference
The conference will be a 2-day event where you will be able to witness what the industry leaders think about blockchain and its impact on the enterprise industry. The content will be top-notch as it will be contributed by leading leaders, brands and other experts in the field.
There will also be four co-located events. They include the following.
IoT Tech Expo
AI & Big Data Expo
Cyber Security and Cloud Expo
Blockchain event
The conference will also have many tracks related to the blockchain. They are as follows.
Blockchain Platforms and Strategies
Blockchain for Enterprise
Cryptocurrency and Financial Services
Blockchain for Business
Developing Blockchain Applications
Blockchain Workshops
Blockchain Technologies
Innovations & Investors Zone
Speakers
The conference will have plenty of speakers. To be precise, there will be more than 500+ speakers. The speakers will be from different startups, companies, and organizations including HyperLedger, Gucci, Citi, Bita, Blockchain Alliance, DHL, eBay, Port of Rotterdam, Rabobank, and so on.
Some of the prominent speakers include
Bart-Jan Holleman from GE
Henry Liu from Factom Protocol
Gavin Gillas from YGC
Michael Chan from eBay
Carlos Kuckkovsky from BBVA
and many more!
What are the topics that are covered in the conference?
If you are thinking about what topics are covered in the event, then we got you covered. Below are the topics that will be covered in the conference.
Financial Services
Strategies
Enterprises
Applications
Platforms
Technical
Cryptocurrency
Investors
There will also be plenty of sponsors for the conference. There will be gold, silver, and bronze sponsor. If you are interested in participating in the conference as a sponsor, don't forget to contact them through their official website. There will also be tons of partners for the event which will make the event for awesome for the attendees.
Pricing
The event will take place from 19th to 20th June. If you are interested, you can save up to €400. Let's list the registration fees below
Free Expo pass- There is free entry to the expo. However, your options will only be limited to free activities on the expo floor.
Conference materials - €169 before 5th April, €179 after 7 June and €219 from 19th Jun 2019
Expo Plus Pass - €209, €239 from 5th April, €269 from 7 June, and €299 from 19 Jun 2019
Blockchain Expo Gold
Day 1 - €449 now, €549 after 5th April, €699 from 7th June, €749 from 19th Jun 2019
Day 2 - €449 now, €549 after 5th April, €699 from 7th June, €749 from 19th Jun 2019
2 Days - €749 now, €899 after 5th April, €999 from 7th June, €999 from 19th Jun 2019
Ultimate Pass - €999 now, €1199 after 5th April, €1299 from 7th June, €1349 from 19th Jun 2019
We recommend you to visit the website if you want to know what aspects of the expo are open to you for a particular pass.
Should you attend the Blockchain Expo Europe?
Blockchain Expo Europe is a fun place to be for a blockchain enthusiast. Here you will be able to learn about real-life use cases about blockchain related to different industries and topics.
Statistics
Attendees - 10,000
Events - four
Conference tracks -21
Speakers -500+
Exhibitors - 350+