Blockchain Enterprise Days 2019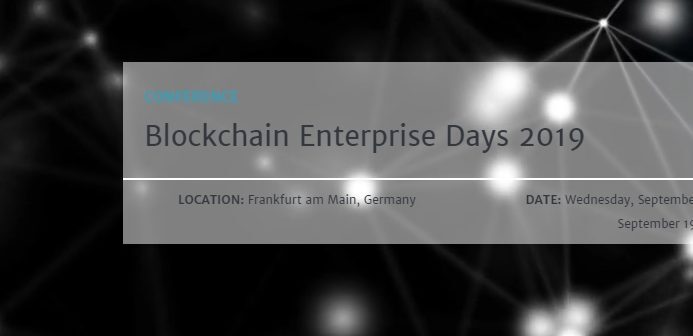 Blockchain Enterprise Days 2019 is a two-day event that is going to take place in Frankfurt am Main, Germany. With blockchain becoming ubiquitous, it is only time when large enterprises will start embracing the technology. The Blockchain Enterprise Days 2019 aims to present the real use cases and applications to the enterprises through the medium of the conference.
It will cover both use cases and financial sector applications. The use cases will be from different sectors including Mobility, Supply Chain Management, Enterprise Resource Planning(ERP), Identity Access Management(IAM), and much more!
There will be single presentations, keynotes, panel discussions and much more.
Why should you attend the Blockchain Enterprise Days 2019?
As an attendee, you will also have access to panel discussions, single presentations, and keynotes. All these activities will focus on the impact of blockchain on the authentication process, self-sovereign identity and Know Your Customer(KYC). Moreover, they will also cover how blockchain deploys Zero Trust approach and the impact of smart contracts on Business Process Management.
There will be ample networking opportunities on the show floor. You can connect with the panelists, keynote speakers, best practice presenters, and leaders, learning from them directly and understanding their world view. Learn from the best and get to known trends and more!
It will also take place parallel to the Digital Finance World 2019(DFW) where both the conferences will share networking and exhibition space.
Key topics
The key topics that are going to discuss the following:
Blockchain - Beyond the Hype!

Blockchain Best Practices: How to get value for money

Know Your Customer(KYC)

Interplay Between Blockchain Technology and GDPR

Blockchain & Security

How Smart Contracts Change Business Process Management

Blockchain in ERP Systems
Features Speakers
Martin Kuppinger - Principal Analyst, KuppingerCole

Oliver Terbu, Identity Architect, ConsenSys

Anmol Singh, Lead Analyst, KuppingerCole

Matthias Reinwartch, Lead Advisor & Senior Analyst

Achim Jedelsky, President & Co-Founder, FIBREE

Andrew Tobin - European Managing Director, Evernym

Balazs Nemethi, Co-Founder, Taqanu

Peter Bush, Product Owner Distributed Ledger Technologies, Mobility

Markus Sabadello, CEO, Danube Tech

Dennis Wegner, Co-Founder, and CEO, gust.network
And more!
Tickets
The tickets for the conference are as follows
Blockchain Enterprise Days - Sept. 18019, - €450.00

One Day Ticket - €240.00