Blockchain as a Service: Intro to Private and Public Networks and Use Cases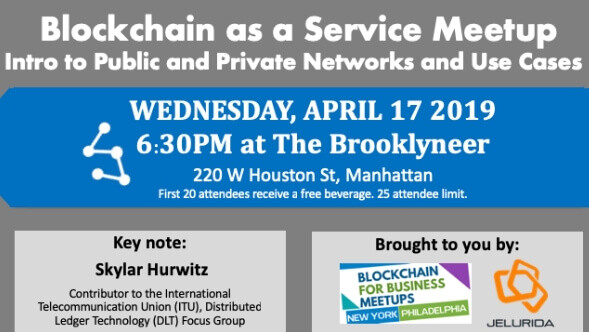 Blockchain as a Service Meetup is an interesting take on blockchain events. With the growth of blockchain, blockchain as a service has become more important for the businesses out there. It has become a buzzword and it is evident from the fact that all the big services including Oracle, Amazon, Microsoft, etc. are working on it. However, there are still a lack of common knowledge regarding the technology and the terms behind it.
Blockchain as a Service Meetup is one of those events that aim to educate people about the BaaS service. Industry reports suggest that BaaS can reach $30+ billion market cap by 2024. That's huge considering that blockchain technology is considerably new and still need a lot of time to mature and improve the adoption rate.
About the event - Blockchain Meetup New York
Skylar Hurwitz hosts the event. He is a blockchain educator and also a contributor to the International Telecommunication Union's(ITU). It is a DLT Standardization Focus Group. The event will be extremely small and only take place for 30 mins where Skylar Hurwitz will go through an introduction of "BaaS" platform. He will also discuss ongoing challenges, real use cases, and mainstream adoption.
Venue
The event will take place at The Brooklyneer, New York, NY.
Agenda
The agenda of the meetup is as below
Registration: 6:30 - 6.45pm

Welcome and Keynote Presentation - 6:45 pm - 7:15pm. It will also have a 5 mins Q&A.

Open Discussion - 7:15 - 7.45pm
As an attendee, you will also get one drink token during the registration.
Tickets
There is no fee to attend the meetup. However, only the first 20 attendees will get a free beverage. The attendee limit is 25.
Should you attend the meetup?
It is a small meetup with one agenda. If the agenda interest you and you can check out what the meetup has to offer in terms of content and networking opportunity.