Black Blockchain Summit 2019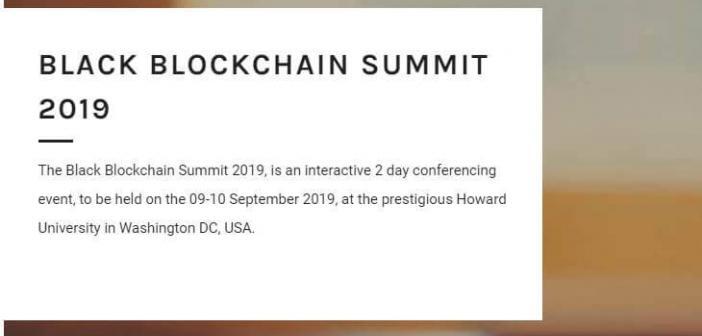 Black Blockchain Summit 2019 is a blockchain summit that is held for two days from 09-10 September 2019. As you might have guessed it, the conference is aimed at improving black people communities. Anyone interested in the event can join the event with no restriction whatsoever.
So, what is the purpose of the Black Blockchain Summit? The main aim is to bring enthusiasts, entrepreneurs, and blockchain technology developers in solving blockchain related challenges faced by black communities worldwide.
Another major purpose of the conference is to find a lasting and innovative solution that helps to break the status-quo. It also aims to bring independence and lasting prosperity that is envisioned in the "Arusha Declaration."
Black Blockchain Summit 2019 - Blockchain Event Washington
Black Blockchain Summit 2019 will bring a dynamic presentation to the show floor with the help of leaders and experts from different sectors including education, research, software development, investing, policy and so on.
The summit aims to work towards two goals.
Prosperity and Independence
Technological growth and innovation
Tickets
The event is now ended, and hence you are not able to get the tickets anymore. Keep a lookout on this page as we will update it soon if the next iteration of the Black Blockchain Summit goes live.
Merchandise
You can also grab the merchandise if you want to support the summit. Currently, they are providing, high-quality t-shirts.
Agenda
The agenda of the conference is to bring together talented speakers and have a debate on interesting topics. It will be done in an interactive debate format which is also known as Baraza in the Swahili language.
Speakers
Many prominent speakers will take part in the conference. Let's list a few of them below.
H.E. Dr. Arikana Chihombori-Quao - African Union Ambassador to the United States
Alakanani Itireleng - Director at SatoshiCenter Pty Ltd
Lamar Wilson - Head of Vision and Decision at Hijro Network
Max Keiser -Product Keiser Report and Investor
Reggie Middleton - CEO at Veritaseum
Jimmy Song - Bitcoin Core Contributor
Jeff Gazrik - Co-Founder at Bloq
Robin O'Connell - Chief Revenue Officer at Uphold Inc.
Kwame Rugunda - Chairman at Africa Blockchain Conference
Evander Smart - Founder at Bitcoin University
Special Guests
Ian Conyers - Michigan Senate member
Symone Sanders - Political Strategist and Commentator
and many more!
Should you visit Black Blockchain Summit 2019?
Black Blockchain Summit 2019 has a lot of things to offer. So, we recommend checking it out if it is what you want to see. It has excellent speakers, panelists, and special guests which will share their expert knowledge. Moreover, you also have full opportunity to do networking and take advantage of what they have to offer.