APAC Blockchain Conference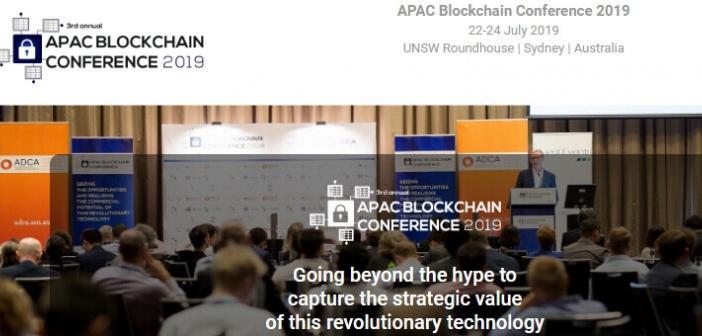 The APAC Blockchain Conference 2019 is going to be the 3rd edition of the biggest blockchain only conference in Australia. The event is scheduled from 22nd to 24th July 2019 and will take place at UNSW Roundhouse, Sydney.
Started back in 2017, the event aims to cut through all the hype and discuss real-world examples and practical use cases for blockchain technology. In 2018, the event witnessed a growth margin of 200%. Over 70 speakers shared their insight with 500+ attendees and 250+ companies.
Likewise, the event is getting ready with new plans and exciting formats to take the statistics much higher than yesteryear. All in all, APAC Blockchain 2019 is going to be "the blockchain event of the year" for any individual or company serious about the technology.
Venue
The conference is set to take place at the University of New South Wales (UNSW) Anzac Parade, Kensington, NSW 2025.
Speakers
2018, saw a gathering of over 70 speakers at the APAC Blockchain Conference. This year as well, we are going to see a congregation of industry leaders educating us on how to capture the strategic value of this revolutionary technology.
Some of these high profile speakers include:
Balazs Bodo - Research Scientist, University of Amsterdam

Peter Hiom - Deputy Chief Executive Officer, ASX

Sophie Gilder - Head of Experimentation, Commonwealth Bank of Australia

Craig Dunn - Chair / Non-Executive Director, Australian Government Fintech Advisory Group ISO Blockchain Standardisation

Terry Chan - Founder, Hong Kong e-Commerce Supply Chain Association

Ramon Vincent D. de Vera - Head of Fintech Business Group, UnionBank of the Philippines
Agenda
The 3-day long event is going to feature a lot of different speakers, each with their own agenda and insight to share amongst the gathering. However, the main focus would be to bring together actionable strategies that are valuable in the real world.
Enterprises, organizations, and even individuals will be able to take part in a discussion to educate themselves on how to incorporate this revolutionary technology into their own field and add value in the process.
Statistics
Here is a statistical breakdown of what kind of people gathered at the APAC Blockchain Conference in 2018. This will help you get a better understanding of the demographic that is likely to gather this year.
Demographic Based on Organization
33% of the crowd consisted of people belonging to certain enterprises.

28% of the organization were Blockchain Ledger Technology Companies.

20% of the gathering were investors.

9% were people in the government.

4% were crypto exchanges.

4% from the media.

And the final 2% from other sources.
Demographic Based on Job Roles
45% of the crowd was saturated by people in Business Strategy and Innovation.

Next up were the CEOs, MDs, and Company Founders accounting for 15%.

This number was closely followed by people in Operations & Trading at 14%.

The General IT and Enterprise Architecture were next at 12%.

Around 8% of the demographics were application engineers and programmers.

And the final 6% were all the analysts.
Why Should You Attend?
As you can see from the numbers and statistics shared above, APAC Blockchain Conference 2019 is all set to become the biggest blockchain event this year. If the hype isn't motivation enough, here are some reasons why you should attend the event:
Opportunity to interact and network with the senior-level industry leaders and end-users of blockchain tech in Australia.

Learning new strategies and ideas on how to incorporate blockchain into your own organization to create more value.

To filter out the noise surrounding blockchains, and be a part of the real and practical discussions on the topic.

Create new allies and business partners sharing the same enthusiasm and vision as you.