ANON BLOCKCHAIN SUMMIT AUSTRIA 2019
Featured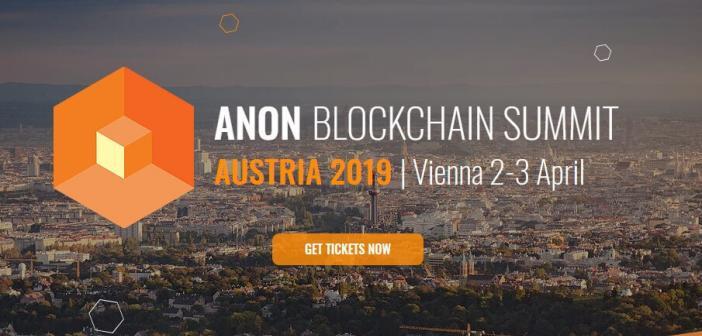 Anon Blockchain Summit Austria is one of the upcoming events that will take place on 2nd and 3rd April in Vienna, Austria. The conference is known for what it has to offer. It lets you explore beyond digital currencies and learn what blockchain has to offer.
Here, you can explore the first-hand experience on how the global and multinational players are pushing the blockchain strategy and trying to push its boundaries. It is a two-day conference which means that there is plenty of time for activities, speakers, live demos and much more!
Real-life applications
The real-life application is the main focus of the ANON blockchain Summit Austria. Here, you will be able to access to real-life applications in different sectors including healthcare, government, banking, and so on. Experience speakers will showcase how threats and opportunities should be managed when it comes to emerging technologies.
Workshops
Another selling point of the conference is the workshops that they have to offer. If you have a business and want to make it blockchain ready, you should attend the workshops that are at offer at the venue. You will get access to practice-oriented workshops where you can perform break-out sessions. Moreover, you can also learn about the uses cases that are related to STO's including learning about their tax, laws surrounding them and much more!
Hackathon
If you fancy your skills, then you should also check out the Hackathon that is going to take place at the OBB Open Innovation Factory. Here you can get the first-hand experience by taking on exciting challenges.
Plethora of speakers
At the event, you will have the chance to listen to tons of speakers from all around the world. Some of the prominent speakers include the following:
Mariye Gabriel - European Commissioner Digital Economy and Society
Joseph Young - Finance and Cryptocurrency Analyst
Mike Ward - R3 Head of Product Management
Abhishek Punia  from Draper Associates
Andreas Freitag - Blockchain Lead Austria at Accenture
And many many more!
Agenda
The summit will take place for a period of two days. The main agenda of the summit include:
Day 1: Government | Business| Healthcare at the Main stage
Scientific Track Austrian Blockchain Center at Innovation stage
Day 2: Banking & Finance | Business | Energy at the main stage
Innovation Challenges | Blockchain Uses cases at the Innovation stage
Venue and City
The venue for the summit is Gösserhalle. It is a 5000m2 space which has two stages. It also has smaller social areas and breakout rooms. The venue is accessible and has proper transport for local and international guest. There are also many hotels around the venue which can be used to stay overnight for speakers, sponsors, and visitors.
Vienna is a hub for both digital and political growth. It has witnessed important events throughout history.
They have also partnered with airlines including Lufthansa, Swiss, Austrian, and others so that you can get access to the cheaper airline fairs.
Prices
Student pass: € 100 + tax. Only for valid Student ID. 300 tickets only, standard conference pass.
Standard Conference Pass - € 300 + tax, access to the main stage, exhibition area, innovation challenges, and ANON closing party
Business Pass - € 450 + tax, everything that the standard pass includes plus access to conference workshops, and B2B conference networking tool
All-Access Pass/VIP ticket - € 1250 + tax, everything that business pass has to offer plus VIP/Speaker Dinner innovation, access to VIP/Speaker lounge and much more
Early Bird -  € 200, access to all the standard conference pass benefits but with better pricing.
Statistics
Speakers - 80
Exhibitors - 20
Investors - 100
Attendees - 1500