Altcoin Magazine Mastermind Event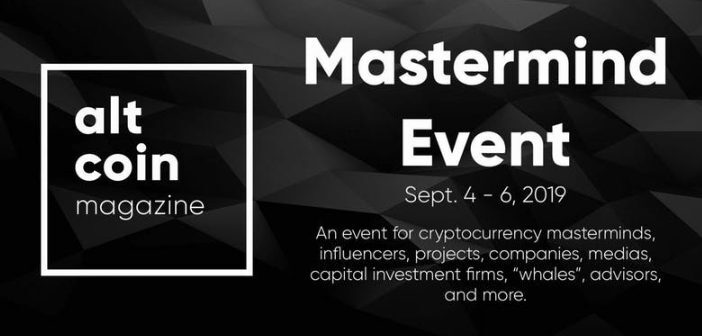 Altcoin Magazine Mastermind Event is a networking event that is going to take place around Sep 4-6, 2019. It is an event that focuses on cryptocurrency mastermind. This also means it will also discuss blockchain and provide information regarding how it is changing the world around us. If you are in the field of business and want to learn from the world of cryptocurrency, then check out the Altcoin Magazine Mastermind Event.
Perfect Networking Opportunity
At Altcoin Magazine Mastermind Event, you will be able to meet some influential people from the world of blockchain and cryptocurrencies. The aim is to create the most influential networking event in the crypto world. In short, leaders and companies can reach out to each other and get access to powerful yet valuable networking bonds. These partnerships will help you educate yourself about the market and create a much better future.
Experts, founders, and influencers from projects such as coin exchanges, coin projects and so on.
Content
The content types that are going to be discussed in the conference include speeches, keynotes, debates, workshops, networking, partnership dealmaking rooms, and much more! They will also host their own Altcoin Magazine Mastermind Awards.
Tickets
There will be a total of 140 tickets. Also, the tickets will grant you access to both accommodation and event
Early-early Bird Crypto Mastermind Ticket - $1500
Early bird Crypto Mastermind Ticket - $2000
Crypto Mastermind Ticket - $2500
Early bird Crypto Mastermind VIP Ticket - $3500 - Cheap VIP Ticket
Crypto Mastermind VIP Ticket - $4000 - VIP Ticket
You can also pay through cryptocurrency.
Should you visit the conference?
If you are looking to learn about altcoins and blockchain as a whole, we recommend checking out the conference. It has something for everyone. But, before you decide to go, you need to check out their attendee requirement. They have a requirement for teams, VIP teams, and other attendees. So make sure you check them out!