4th Symposium on Distributed Ledger Technology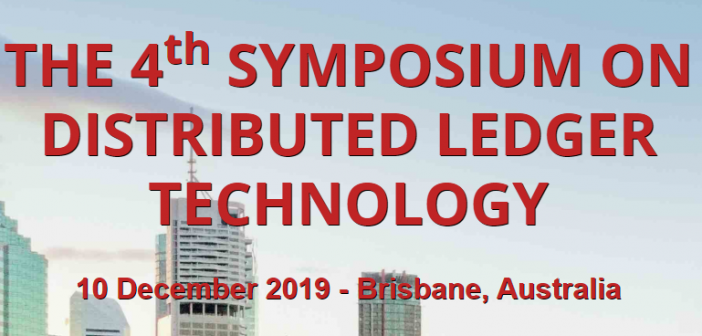 The 4th Symposium on Distributed Ledger Technology(SDLT) is a one-day event, taking place on 10 December 2019 at Brisbane, Australia.
Distributed Ledger Technology(DLT) is growing rapidly due to its emerging technology tag. It lets businesses, organizations, and governments to manage and store information in a completely decentralized way. Other key benefits include the ability to create smart contracts, manage cryptocurrency, do supply chain management, governance, eVoting, and so on. Its impact can be seen in almost every sector, including the stock exchange, real estate, financial services, supply chain, identity management, and so on.
To empower DLT, the symposium is going to bring together policymakers, researchers, and business leaders so that they can share their learning with the audience. They can propose new solutions and also reflect upon the current and future aspects of the DLT. 
Scope and topics
There will be a huge coverage of topics. Some of them are as below:
Privacy and anonymity in DLT

DLT solutions security analysis

Trust management and provenance

IoT security solutions powered by Blockchain

Formal verification of Blockchain Protocols and Smart Contracts

Applications in different sectors, including government, supply chain, and so on. 

Discussion on consensus mechanisms including PoE, PoS, PoW

Interoperability and scalability

AI, Big data and blockchain technology

Paradigms, platforms and new architecture

Recovery techniques and malicious transactions detection in Blockchain

Smart contracts and DLT deployment
Registration Fees
To attend the symposium, you need to register. The registration fees are as below.
Early registration - $69, valid until 4th Dec., 2019

Late registration - $104, valid after 4th Dec., 2019

Student registration - $35.
You will also receive a free parking code with each registration.
Location and Venue
The symposium is going to take place in Brisbane. It is a subtropical city with great city sights to be checked at night.
The venue is N79, Nathan Campus, Griffith University.