3rd Blockchain for Finance Conference – APAC (BFC2019APAC)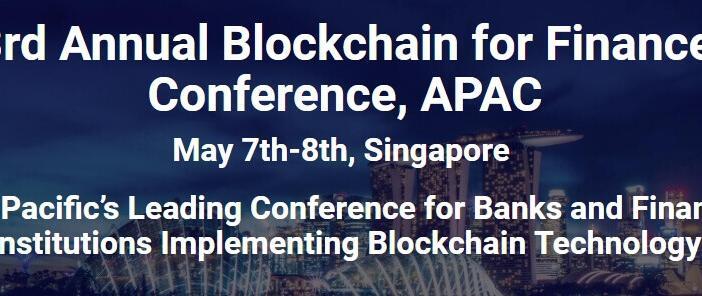 The 3rd annual blockchain for finance conference, APAC is an industry-leading conference that discusses blockchain technology being implemented by financial institutions and banks.  It is going to take place from 7th to 8th May, Singapore.
Statistics
Senior level delegates - 300+
Expert speakers - 40+
Countries represented - 25+
Financial institutions - 40+
Companies represented - 150+
Conference Content
The conference has a lot to offer when it comes to content.  The four main content topics include the following.
Business Model: Here the speakers discuss the different business model that relates to FIs. They will also discuss use cases and enable you to take an informed business decision.
Asset Tokenization: Here, the spotlight will be on STOs where they will explore the tokenization benefits including how they work and how to get them to work.
Beyond the tech: Beyond the tech discusses non-technical challenges that are related to wide-scale adoption, legal concerns, and so on.
Blockchain projects: Here the financial experts discuss the latest us cases in Securities, Trade Finance, Settlement, and so on.
Speakers
Many brilliant speakers will speak their mind at the conference. Some of the notable ones include the following.
Colin Dinn - CTO, Siam Commercial Bank
Wee Kee Toh - Assistant Director - FinTech and Innovation Group, Mas
Antony Lewis - R3 Director of Research
Kelvin Tan, DBS Bank
Nigel Dobson, Banking Services Land, ANZ
Daren Frankel, Director - Strategic Markets and Solutions, ConsenSys.
Joshua Kroeker, Director - Blockchain Lead for Global Commerical Banking, HSBC.
Conference Features
There are two major conference features that you will notice. They are:
Keynote Presentation: Learn from the C-level speakers at the conference. These speakers are from top-tier IT, financial and blockchain organizations who share their insights on how DLT and blockchain will change the current landscape.
Panel Discussions: The panel discussions will be done by the technical and financial experts that will also do an interactive discussion on the most emerging topics on blockchain and its related technologies.
Interactive Workshops: You will get the chance to take part in the interactive workshop sessions that will deal with the hottest topics.
Technology showcase hall: Here you will find the booths that will discuss their solutions regarding DLT/blockchain. As a visitor, you can network and grow with them.
Tons of delegates to meet: You will be able to meet 300+ senior delegates from different sectors and branch such as payments, trade finance, data, and so on.
Should you attend the conference?
The answer depends on what you are looking for in the first place? If you are in Singapore and is heavily invested in blockchain technology, then you can give the event a try. It is related to banks and financial institutions which makes it a great conference to visit!